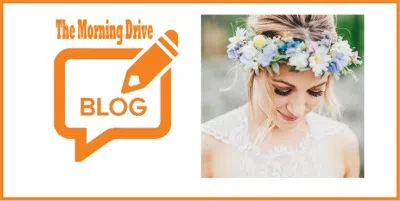 I'm a guy, which means that automatically I know nothing about planning a wedding. But I DJ at plenty of them during the wedding season, so I've had the opportunity to see a lot of changing fashions over the years. ONe theme I've seen a lot is the ":rustic" look, what the experts call "Bohemian" or just "BoHo", and being a country guy, I like that look. But now, the pros at Vogue magazine say put down that burlap-tied napkin and step away from the Pinterest board because the boho wedding has finally had its day.
Flower crowns are officially out and it seems the humble chalkboard sign has had it's day too. But it's not just an unoffensive strip of blooms and a friendly framed run down of proceedings that one is to avoid when pulling off a 'trendy' wedding in 2017, plenty more unassuming additions to one's Big Day are also in the firing line.
Rustic has become "an almost taboo word" for weddings according to Virginia Edelson, founder of event planning firm Bluebird Productions, who names burlap-tied napkins, cocktail tables, wood slices and twine-tied favors among her particular bugbears. Noting that items like dreamcatchers, fathers and arrow are "merely seen as kitschy," she adds that "moving forward, we want to see people moving more toward a mountain-elegant vibe."
According to Los Angeles and New York City?based event producer Yifat Oren, 'family-style' dinners are out, while celebrity wedding planner Mindy Weiss is bored of the all-white wedding.
The 'archaic practice' of the bride's family footing the bill for the affair is a definite no-no for one wedding planner. "The idea no longer makes sense," notes David Stark, Brooklyn-based wedding and event planner who says to "Go Dutch or go home!"
"People should be really careful with fashion trends," advised Alison Laesser-Keck and Bryan Keck, founders of VLD Events, and those found on image sharing site Pinterest are some of the ones to particularly steer clear of. ?Pinterest can be an excellent tool for brides-to-be to find inspiration and get their visions in motion, but the home page?of?Pinterest wedding look is well overdone. I?m talking about chalkboard signs, bohemian naked cakes, and geode everything. We thought that boho chic was on its way out last year, but somehow it stuck around for 2016. Let?s hope 2017 can finally ditch the trend," says Colin Cowie, wedding and event planner.
So here's a handy run-down of wedding no-nos for 2017…
1. Witty bar menus/drink names
2. 'Family style' dinners
3. Boho/Rustic style weddings
4. Garland centrepieces
5. Huge bridal parties
6. Oversized bridal bouquets
7. The bride's family picking up the tab
8. The 'all white' wedding
9. Long, formal meals
10. Runners/cowboy boots
11. Incompatible color palettes
12. Flower crowns
13. "The Pinterest Wedding"
14. Food trucks