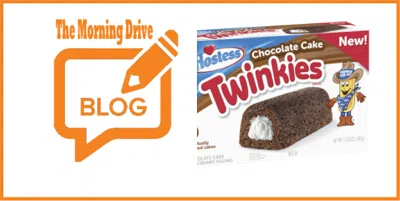 We all do it, even those of us who claim we're on a strict diet and we'd never cheat. Every once in a while we reach for a sweet, sugary, fat-inducing snack. And let's admit it, when it's snack time a Hostess Twinkie always fits the bill! But now there's something new in the Twinkie department:  Hostess has introduced new Chocolate Cake Twinkies – made with chocolate cake, in the same iconic Twinkie shape. That's right…
Chocolate Cake Twinkies!!
While Twinkies have appeared in a variety of limited edition creamy filling flavors, including Pumpkin Pie Twinkies and Ghostbusters Green Slime Twinkies, until now, the golden sponge cake has gone untouched. New Chocolate Cake Twinkies are made with real chocolate sponge cake and the same creamy filling found in traditional Twinkies.
But wait, there's more! In addition to new Chocolate Cake Twinkies, Hostess also reinvented their popular Fudge Covered Twinkies, aka The Chocodile – by making them bigger, adding more crème and intensifying the fudge coating flavor.