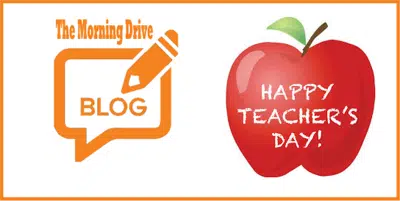 I grew up in a house of teachers. My father was a school Principal, my mother an elementary and middle-school teacher. Of course that meant I couldn't get away with anything! But on this National Teachers Day, I thought I would ask who your favorite teachers were. I had a lot of great teachers, but other than my parents, two really stick out in my mind.
The first was Mr. Bishop in 5th grade at Hintgen Elementary. I just remember him as being a "fun" teacher. What I mean by that is he made learning fun and enjoyable. Here's what's weird:  he taught us the Greek alphabet and I've never forgotten it. I've basically had no use for it in daily life, but I can still recite it for you! Thanks, Mr. Bishop!
The second was a man who passed away just recently, Henry Aronson, the choir director from Central. If you're saying a choir instructor doesn't teach anything but how to sing, you're wrong. He expected excellence, taught discipline. But he inspired generations of us who were in Central's Robed Choir to work together to create a sound that was truly more than just 70-some voices singing together. An unforgettable man.
Of course there were many others. Miss Schultz and Mrs. Gonzalez who taught me Spanish. Mr. Thornton, my high school biology teacher, who local race fans know better as Don "Thunder" Turner. Mr. Sauer, who taught US History and Psychology, and so many others
So who were your favorite teachers? Drop me a line, john@kicks1063.com. And if you know a teacher, thank them today, ok?