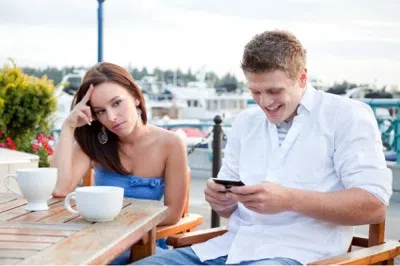 If you ask most guys, they'll tell you that women are the ones that just can't stay off of their phones. Women are always texting each other, Facebooking, Instagramming, etc., right guys? Wrong!
A new survey of 1,000 Americans from Decluttr.com shows that men are four times more likely than women to take their cell out during a wedding or a funeral. And a whopping 67 percent of men would look at their cell phone on a date, but only 32 percent of women would! But while the survey shows men are the most problematic phone checkers overall, women were the worst while watching TV, after they wake up and just before bed. It's no secret that devices are an addiction,  and the survey shows men would give up their car, new cloths and sleep before their phones. With women, they would rather give up sex, vacations and partying with the friends.
So who's more "addicted" to phones in your home?
Source: kmvt.com
Photo: goodpartsmedia.com