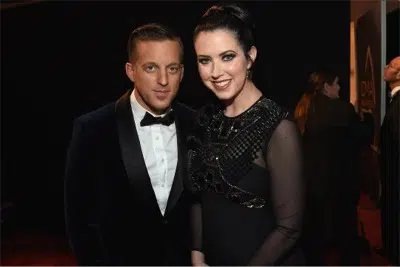 Country On The River performers Thompson Square and their longtime record label home Stoney Creek Records have parted ways after seven years and four Top 10 hits. The "Are You Gonna Kiss Me or Not?" singers gave no indication of what their future holds.
Keifer and Shawna Thompson were gracious in exiting the BBR Music Group, thanking executives who gave them a chance while calling the departure "bittersweet" in a press release. The duo is also married and have a 1-year-old son named Rigney Cooper Thompson.
It's been several years and several singles since T2 reached levels of success achieved early in their career with Stoney Creek. "Let's Fight" was their debut single in 2010, but the duo quickly turned to a catchy love song to provide a highlight, and it worked. "Are You Gonna Kiss Me or Not?" earned Grammy nominations, multi-platinum certifications and crossover success. A string of four more Top 20 singles would follow, ending in 2014. In seven years they'd score three Vocal Duo of the Year wins at the ACMs and CMAs.
Source: tasteofcountry.com
Picture: country.goodpartsmedia.com