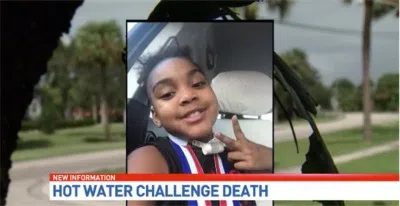 My gosh, people, especially kids, can do some really stupid things. And usually it's because some other idiot does it first. Remember when your parents used to say, "If Billy jumped off a bridge, would you do it too?" To which you replied, "Depends on how high the bridge is, Mom!" After which you got grounded. Anyway, there's a really stupid trend circulating on YouTube and social media: The Hot Water Challenge. Kids are saying this was inspired by YouTube videos and involves pouring boiling water on an unsuspecting friend — or, in one fatal instance, daring a friend to drink boiling water through a straw. Yes, that's right, it's caused someone to DIE!
>>On Monday, an 11-year-old Jamoneisha Merritt of the Bronx was badly burned when friends poured boiling water on her face while she slept.
>> In July, a 10-year-old Wesley Smith of North Carolina suffered severe burns after he and his step-brother attempted the challenge.
>>And in late July, an 8-year-old Ki'ari Pope of Florida died several months after her cousin dared her to drink boiling water through a straw. Pope burned her mouth and throat, received a tracheotomy, and suffered enduring respiratory problems. The night she died, she told her family she couldn't breathe, and fell unconscious shortly thereafter.
The parents of these victims are now urging other mothers, fathers and caretakers to warn their kids against the dangers of trying to replicate Internet challenge videos. "Parents, talk to your kids about these challenges," Pope's aunt Diane Johnson told a local CBS affiliate. "Don't just give them your phone and let them go by. Watch what they are doing."
Have your kids talked about this at all?