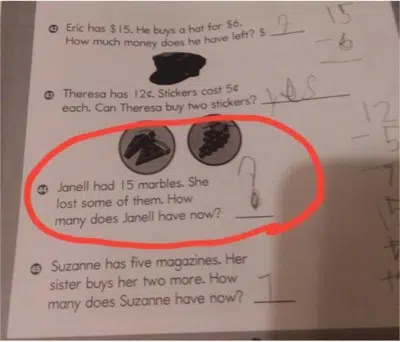 Homework is something that parents often dislike as much as kids, especially when even they can't figure it out. And a problem from one third-grader's math homework stumped social media users this week. Last Tuesday, a mom named Dusty Sappington posted a photo showing a section of her 8-year-old daughter Izzy's homework. Sappington circled one particular problem, which states, "Janell had 15 marbles. She lost some of them. How many does Janell have now?"
Izzy's answer: a question mark.
After posting the photo on Reddit, she commented, "If someone can answer this correctly, my child will be done with her homework!!" She added that the homework came with no additional instructions or multiple choice.
So far, no one on social media has come up with an answer!
Source: huffingtonpost.com