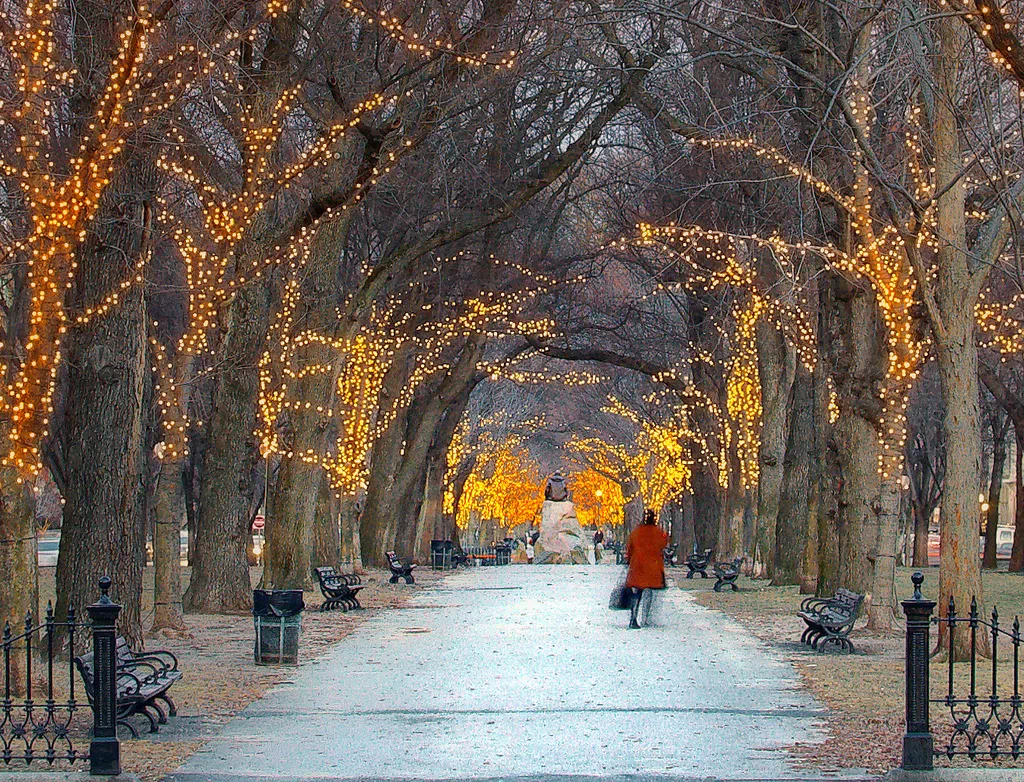 The holidays are a wonderful time for you to be with your family, but when you move away, things change. You may not be able to drive or fly home for Christmas, and that first time away from them can be really tough.
I was fortunate enough to have someone with me on my first Christmas away after I moved out west the first time, but that didn't take away the fact that I still missed my family living many states away. We used Skype to say hello to them while they were enjoying appetizers in Minnesota, and at the same time we enjoyed ours in Colorado. That alone provided some comfort just to see them on the laptop.
Below is some great advice from clinical psychologist Stephanie O'Leary, Psy.D.
Hopefully it will be beneficial in helping you through your first holiday away from the family.  🙂 -GM
1. Remember the many benefits travel provides.
There's a reason so many working professionals are shifting their attitudes toward remote working and bargaining for more paid time off or a few work-from-home days each week. Seeing the world doesn't just teach you about what you're made of as you race to make trains and use Google Translate to figure out what you're buying at the grocery store, but O'Leary says traveling is soul-fulfilling.
"Frequent travel can provide multiple benefits including quenching your need for adventure, exploring passions, and finding your purpose. Committing to the digital nomad existence by combining career and travel is a fantastic way to invite travel into your life while maintaining your professional identity," she said. "You have the chance to experience new cultures, people, and places that can expand your horizons and provide new perspective. It's also an opportunity to experience a new level of independence as you have to rely on your instincts and fortitude to break out of your comfort zone by dropping the 9-to-5 mentality."
2. Acknowledge your emotions. 
"It can be hard to handle the changes and transitions that accompany frequent moves and relocations. While it's great to see new places, there's also a lot to be said for settling into some consistency," O'Leary said. But the first step to handling the weeks and the days is admitting and accepting those feelings of sadness. "If you acknowledge the fact that there will be things you'll miss and things you're happy to do without, you'll set yourself up for success and avoid being blindsided by your emotions."
3. Don't judge yourself for feeling left out. 
"Being honest with yourself is key. Try to identify and label your feelings without judging them. It's OK to feel relieved that you don't have to tolerate an annoying family member over a long, stuffy dinner and it's understandable to be awestruck and joyful while experiencing the culture you're immersed in," O'Leary said. "Judging yourself and your feelings harshly leads to unnecessary pressure that will certainly put a damper on your holiday season."
4. Stay grounded in your current reality. 
If you're in the middle of the Sahara Desert for Christmas Day, you might not be able to find a tree to decorate. Or, if your parents didn't make it to the post office in time, you might not have a gift to open from your family members on the first day of Hanukkah if you're currently living on the other side of the world.
Though you may dream up visions of holidays past, O'Leary says coming back to your current reality is the best solution for maintaining joy during this season. It's also an opportunity to release old habits and be open to creating culturally enriching experiences abroad. Forget the guilt you might feel (or that your parents might not-so-subtly hint at) and try to be present. After all, not having to answer why you're choosing an African safari over a singles mixer organized by your grandmother might be a nice change.
5. Make time to talk with loved ones. 
Since most places of the world will offer some sort of internet connectivity, there's no better time than when you're feeling down scrolling through Facebook of family photos than to upgrade to the high-speed option and chat with your fam. Even if you can't pass them the eggnog or throw a football with your brothers, you can be part of their celebrations digitally.
Creating that feeling of connection is a smart, healthy way to make the most out of your nomadic lifestyle, while also having the space you need to explore, according to O'Leary. "Reaching out to family members allows you to keep up with personal details and also share in memories that are important to you," she added.
6. Send holiday cards or letters from wherever you are.
You might also opt to write a holiday card list this year — and OK, check it twice if you have time before boarding for a last-minute side trip to Bali. "Writing letters is a fantastic way to organize your thoughts and create a meaningful connection. While it may be hard for you to receive mail if your address is changing frequently, the simple act of sending letters helps you focus on what's important to you despite the distance," O'Leary said. After all, you don't need Santa's sleigh to make it around the world — a festive stamp on a postcard will ring in the season just fine, no matter where your reindeer, err, next adventure, takes you.