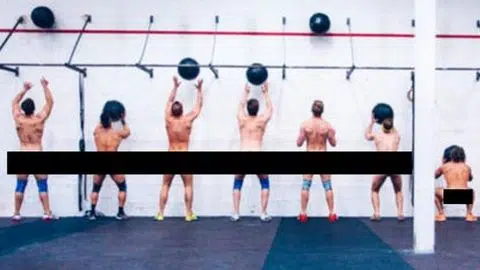 I'll start with this…being nude is definitely fun. There's something about running around in your birthday suit that's quite enjoyable. That being said, there are some things that are better left to do with your clothes on.
A popular gym in New York  is now offering fitness classes where you can, for a mere $3 dollars, workout naked. Yes naked at the gym with a bunch of other strangers, or, maybe your buddies lol.
Top New York gym Hanson Fitness sees a need for this and—as the Daily News reports—in 2018 they'll be offering three buck naked classes to fulfill a customer's need to clang and bang in a birthday suit. The classes will break down the way you'd expect: all men, all women, and mixed.
Gym owner Harry Hanson explained his rationale for this skintastic approach to trimming fat for the New Year in a press release quoted by the News:
Our approach makes sure our members get and stay in the absolute best shape, and our new naked personal fitness sessions are no exception. This new development brings with it a range of fitness and health benefits and allows our members to have a little cheeky fun in the process!
So yeah, naked workouts, now also available at the gym in an actual class lol. Guys, watch what you're doing with what, and where because, well, ya know. Ladies, the same ultimately applies to you. -GM
Source: MAXIM