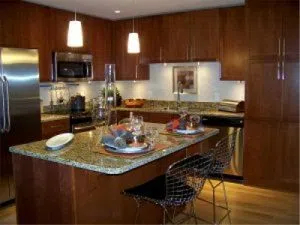 Keeping up with any kind of new trends is hard to do.  Kitchen renovations are taking on a different look this year.  Raised Panel Cabinets are on the way out.  Shaker-style door fronts are now number one and flat-panel are the second most requested .
It may surprise you to know that Granite counter tops are loosing to engineered quartz as a top choice.  Granite is in a three year decline.  Marble while so beautiful is a soft stone and can stain and scratch.
Here is another little surprise …..fewer folks want a TV in their kitchen.  Looks like people don't want to feel so plugged in.