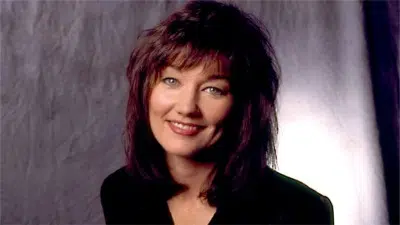 Singer-songwriter Lari White has died. White, who was diagnosed with peritoneal cancer last year, passed away on Tuesday, Jan. 23. White was 52 years old at the time of her death.
White rose to fame in the '90s with a series of hits that included "That's My Baby," "Now I Know," "That's When You Know (You're in Love)" and "Ready, Willing and Able," among others. White also made history by becoming the first female to produce a the country album of a major male country star, when she produced Toby Keith's platinum-selling 2006 White Trash with Money record.
White also was a professional actress, appearing in the films Cast Away and Country Strong, along with the Broadway musical, Ring of Fire. In addition, she worked as a vocal coach, and continued touring until shortly before her death.
Here she is with Tom Hanks in "Castaway." Lari played  the woman in Texas who's package he kept during the entire time he was stranded on the island, and was determined to deliver it to her: