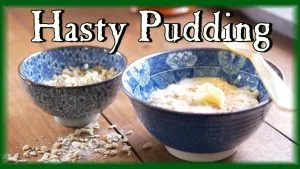 In the Song Yankee Doodle…..Hasty Pudding is mentioned to be along with Captain Goodin they saw men and boys as thick as the pudding.  Well it really is a food.  It's cornmeal slow cooked in water for the most part.  Once in a while an old tune will have a reference to some food that we sure don't hear about often and never find on a menu.  Here is a version for the pudding.
DIRECTIONS
Make a paste of the corn meal and cold water, stirring until there are no lumps and pour gradually into the boiling water.
Stir until very thick.
Place in a double boiler, cover and cook from 2 to 3 hours, stirring frequently.
Serve hot with sugar and milk, with plenty of butter and salt as desired.