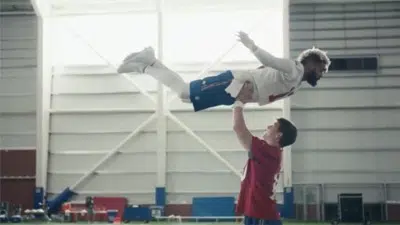 Hollywood was represented in full force in this year's Super Bowl commercials. Our highlights include Freeman's lip sync rap battle with "Game of Thrones" star Peter Dinklage, David Harbour in a giant clam shell, Reeves howling with wolves, David Schwimmer feeding Skittles to a talking sandwich, and Eli Manning and O'Dell Beckham Jr. "Dirty Dancing."
Here's the day's best ads:
When Alexa is out sick, Hollywood stars step in to take her place. At least, that's the case in Amazon's Super Bowl commercial, with Gordon Ramsay, Cardi B, Rebel Wilson and Anthony Hopkins taking over Amazon's personal assistant when Alexa loses her voice:
If a rap battle between Peter Dinklage and Morgan Freeman was what America had been waiting for, then Doritos and Mountain Dew delivered with their joint Super Bowl commercial.
"Stranger Things" star David Harbour does it all in this year's Tide ad, appearing in commercials seemingly for cars, beer, jewelry, fitness programs and more, only to reveal they are actually all ads for the detergent.
While a "Crocodile Dundee" sequel may not be coming out of Hollywood anytime soon, Australia took the film into it's own hands, fooling viewers with what appeared to be a trailer for an upcoming movie. Starring Danny McBride and Chris Hemsworth, the ad started as what appeared to be a buddy comedy sneak peak, before McBride realizes, "Wait, hold up. This isn't a movie. It's a tourism ad for Australia" as Hemsworth consoles him, saying he is "the best Crocodile Dundee since Crocodile Dundee." The commercial was so popular that it launched a petition online for a real film to be made based on the ad's premise.
On a night celebrating the new Jurassic Park franchise with the release of the "Jurassic Park: Fallen Kingdom" trailer, Jeep's commercial brought it back to the original.
The NFL has become known for its players' elaborate touchdown celebrations, but the organization's Super Bowl commercial took it to the next level with a performance between Giants quarterback Eli Manning and receiver O'Dell Beckham Jr. In what quickly became one of the fan favorite ads online, the two perfectly executed the iconic Patrick Swayze – Jennifer Grey lift from "Dirty Dancing" following a scoring pass in practice. Even the team's offensive line got in on the action, helping out as backup dancers as "Time of my Life" played.
Chris Pratt is the new face of Michelob Ultra, and he's very excited about it. In the company's Super Bowl commercial, Pratt gets the call that he's going to be in the ad and immediately goes to work, hitting the gym, creating his character and telling anyone who will listen about his new gig.