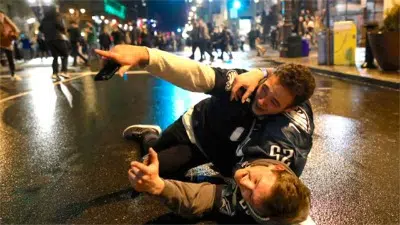 As we all know, on Sunday, the Eagles won their first Super Bowl ever after defeating the Patriots in a 41-33 upset victory. And how did Eagles fans decide to celebrate the historic win? By nearly burning their city to the ground! We found series of postings that show the 10 stupidest Things Eagles fans did after their team won the Super Bowl:
1. Looted gas stations.
2. Ate horse poop off the ground.
4. Stood on an awning at the Ritz Carlton…that eventually collapsed.
I am raw html block.
Click edit button to change this html
8. Removed large poles from the ground and proceeded to just…carry them around?
9. Smashed the windows at Macy's.
10. Tried to get a keg through the gates of Philly's City Hall.