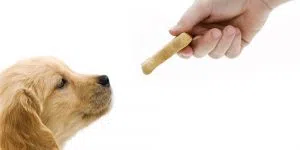 Easy Dog Treat Recipes
When you cook with children, you should start with something easy. Depending on the skill and experience of your child, you may want to let them do all the work under your guidance or let them instruct you. Either way, cooking together is fun as long as you can keep the doggie away long enough to make the treats. For a simple yet healthy snack for your dog give this recipe a try.
2 cups of plain or whole wheat flour
1 tablespoon of baking powder
1 cup of chunky or smooth peanut butter
1 cup milk
Mix the dry ingredients together in one bowl and the milk and peanut butter in another. Add the dry ingredients to the milk and peanut butter mixture to make a dough and knead for about five minutes. Use a cookie cutter to make shapes and bake in a pre-heated oven for about 20 minutes. The cookies should be hard but not rock solid. Don't let your dog eat them until after they have cooled.