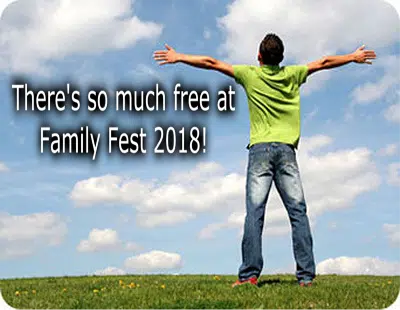 One thing we've always been proud about at Family Fest is that admission is free! Always has been, always will be! But admission isn't the only "freebie" that day. Let's start with family 4-packs of tickets to the final home game of the season for the La Crosse Showtime. The game is March 4th at the Center, and the first 125 families will each score a 4-pack. This is the inaugural season for the team, and everyone says it's a great family event, so you'll want to get there when the doors open at 11 am so you don't miss out on those. Next is everyone's favorite: Mt. Olympus passes! Yep, they're back this year, and everyone's going to get one! Even Aunt Sadie, cuz you know how much she likes the water slides!
You'll find those at the La Crosse Media Group booth. While you're there, don't forget to sign up for tickets to WWE Road To Wrestlemania at the Center on March 5th. These have been hot tickets, so we expect a great show that night! Plus I'm sure many of our vendors will have "swag" to hand out as well.
But there's some free stuff being given away that day that may not be so obvious. Like spending precious time with your family. Watching your kids have a blast on (and in!) the inflatables from the Big E. Catching great entertainment on the Central Animal Hospital stage in south Hall. And checking out all the great things our community has to offer when you visit their booths.
The theme really is "free" at Family Fest 2018! Don't forget, we have new hours this year, 11am-4pm. It's all from Altra Federal Credit Union, Gundersen Health System, Central Animal Hospital and WKBT News 8!