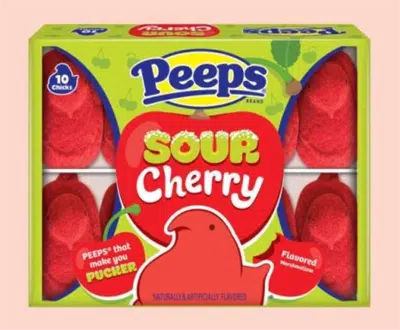 John hates them, Joanie loves them. Either way, it just wouldn't be Easter without everyone's favorite chick-shaped marshmallow treat: Peeps! And this year's Peeps flavor lineup looks even more fun and delicious than last year's. Peeps will launch eight new flavors to fill your Easter baskets with this year. A new Sour Cherry flavor will be available in grocery stores nationwide, while exclusive flavors will be hitting Target and Walmart.
Head to Target stores this spring to pick up a box of "Delight" chicks in flavors including Neapolitan, Lemon Sherbet, and Orange Sherbet. The Neapolitan version features a chocolate and strawberry filling, while the sherbet versions are both dipped in rich fudge.
At Walmart, you'll find three exclusive mystery flavors. Pass one out to everyone in the family and take turns guessing what flavors you think they are—then stay tuned for the big reveal from the brand closer to Easter.
Finally, some stores will be the home of one exclusive new treat you'll want to pair with your favorite brunch dishes: Pancakes and Syrup-flavored marshmallow chicks.
And Joanie says don't forget about the Peeps Oreo flavor. She says she's seen them at Festival and Target. John says he'd just as soon forget 'em all!