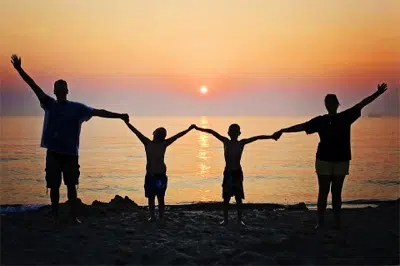 I'm certainly not going to jump into the gun debate with this. Lord knows there's lots of people with opinions on that right now! But something occurred to me this week as I was watching coverage of the shooting in Florida: Family Fest can and is part of the solution. No, attending the event this Sunday is not going to stop all gun violence. But lately I've been seeing a lot of social media posts about parents and kids coming together, and how we should get back to those days when families did these kind of things on a regular basis. Just the simple act of attending an event like Family Fest means parents and their children are experiencing something fun together. We have an awesome array of things to do at Family Fest, so let's look at how these things can affect your family in a positive way.
First, we encourage you to bring a non-perishable food item for donation to the Hunger Task Force. Do your kids know how many people in our community go hungry every day? Here's a chance to teach them about folks who are less fortunate than we are. How about letting your child pick out the item to bring? Have them carry the can or box up to the donation table and give it to the volunteer. Kids love it when they feel they are a part of something important, and you can show them that the best super heroes are the one who give of themselves.
OK, we all know the kids are going to make a bee-line to the inflatables from The Big Event Company, and that's ok. But try to resist the urge to let them play on their own while you check other things out. For kids, this is a real "Hey Mom and Dad, watch this!" moment when they can show off a bit in the bounce house or giant slide.
Make sure you let them check out the booths with you, even the ones you don't think they'd be interested in. Talk about what they saw at the booths, ask then questions about their favorites. Kids will give you great feedback if you ask them!
Oh, and make sure you check out the entertainment on the Central Animal Hospital stage. This'll give you guys a chance to take a break, plus the food venders are right next to the stage!
The point is, we all want to find ways to connect with our kids and to stay in touch with what they're thinking and feeling. If Family Fest helps you do that in even a small way, them we've done our job. See you Sunday!