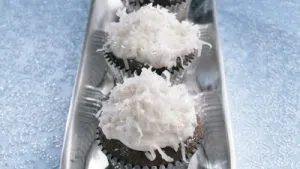 Snowball Cupcakes….Better than the snowballs outside today!
Ingredients

Cupcakes
1 box Betty Crocker™ devil's food cake mix
1 package (3 oz) cream cheese, cut into 24 cubes
Frosting
1 jar (7 oz) marshmallow creme
Steps
1 Heat oven to 350°F (325°F for dark or nonstick pans). Place paper baking cup in each of 24 regular-size muffin cups. In large bowl, beat cake mix, water, oil, sour cream and eggs with electric mixer on low speed 30 seconds, then on medium speed 2 minutes, scraping bowl occasionally.

2 Spoon batter into muffin cups. Place 1 cube cream cheese in center of each cupcake; press down into batter almost to center (top of cream cheese will still show).

3 Bake 21 to 27 minutes or until toothpick inserted near center of cupcake comes out clean (test between cream cheese and edge). Remove cupcakes from pan to cooling racks. Cool completely, about 30 minutes.

4 In 2-quart stainless steel or other non-coated saucepan, mix sugar, water and egg whites. Cook over low heat, beating continuously with electric hand mixer at high speed until soft peaks form, about 4 minutes. Add marshmallow creme; beat until stiff peaks form. Remove saucepan from heat. Beat in vanilla.

5 Spread frosting evenly over cupcakes; sprinkle each with generous tablespoonful coconut. Store loosely covered in refrigerator.