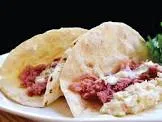 IRISH TACOS
These Irish Tacos are a great way to use up leftover corned beef from St. Patrick's Day.
INGREDIENTS
1 lb corned beef
8 corn tortillas
8 slices Swiss cheese
1 20oz package diced potatoes with onion (I used Simply Potatoes brand..or cut up your own potatoes)
1 tbls oil
sauerkraut*
Russian Dressing
green onions, chopped (opt)
DIRECTIONS
Heat oil in 12-inch nonstick skillet over medium heat. Add potatoesand cook 10 minutes without stirring. Turn potatoes, continue to cook 7 to 8 minutes or until potatoes are tender.
Warm leftover corned beef in microwave until heated through. Right before potatoes are done warm tortillas for about 30 seconds in microwave.
On top each tortilla add one slice of cheese, 1/4 cup potatoes, 2 oz meat, and then top with sauerkraut, dressing and green onions.
* Instead of sauerkraut feel free to try leftover cooked cabbage or even shredded fresh cabbage.