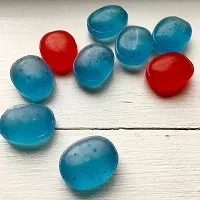 Excessive use of menthol cough drops might make coughs worse, perhaps because people develop a tolerance to menthol, a UW-Madison study found.
A survey of more than 500 patients treated for coughs at five clinics around Wisconsin found a correlation between cough severity and daily menthol intake from cough drops.
It's no surprise that people with bad coughs might be more likely to take cough drops. But in the study, patients with more severe coughs tended to use more menthol drops or drops that contained more menthol.
The amount of menthol in cough drops varies considerably, the researchers said, something most patients don't know.
It may be that people develop a tolerance to menthol, requiring higher doses to soothe coughs and making coughs worse after drops are finished, said Dr. David Hahn, who oversaw the study.
"High exposure to menthol cough drops might in some cases make coughs worse," Hahn said. "Menthol appears to play a small but significant role in cough severity."
More research is needed to verify the finding and determine if tolerance is involved, Hahn said. Little research has been done on menthol cough drops, he said. Menthol, also known as mint camphor, has anesthetic qualities and can be toxic at high doses.
SOURCE: The Chippewa Herald