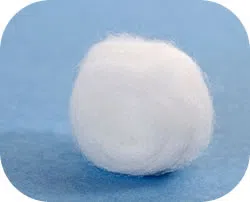 It happens in just about every kitchen: Stinky kitchen trash can!  Here is a solution you may want to try. Soak a cotton ball in some essential oils and drop it at the bottom of your trash can, under the liner.
What Essential Oils Do for the Trash?
They mask the smell.
By soaking a cotton ball in a few drops of essential oil and dropping it into the trash, you're leaving behind a sort of fragrant and puffy little odor-fighting tool that helps to keep the area inside and around your trash can smelling nice. And in fact, some essential oils have added benefits beyond just smelling nice.
You can drop a new oil-soaked cotton ball into each liner as you fit it in the bin.  Just remember to replace it once a week (maybe on trash pickup day?) or every few loads.