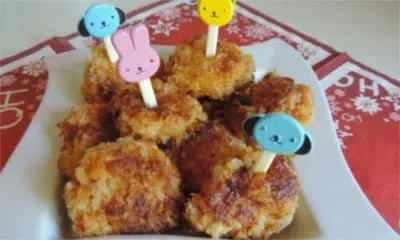 Well…it's Toddler Tuesday! How about this chicken, cheese and vegetable patties recipe next time your little one needs a new foodie choice.  Here is how you do it.
Ingredients:
2 large potatoes, peeled and roughly chopped
1 medium sweet potato, peeled and roughly chopped
1 tbsp butter
2 tbsp milk
Half a medium  onion,
1 medium zucchini, grated
1 medium carrot, grated
1 tbsp olive oil
1 tbsp soy sauce
3/4 cup cooked brown rice
1/2 cup drained tin lentils (optional).
2 eggs, beaten
1/2 cup cheese, grated any kind your toddler likes
1 cup chicken mince (cooked)
1/4 cup breadcrumbs to thicken pattie mixture (if necessary)
2 eggs, beaten
1. Preheat oven to 350 degrees. Line a baking tray with foil and set aside.
2. Cook potato and sweet potato in some boiling water until soft. Mash with butter and milk and set aside to cool a little.
3. Fry the onion, zucchini, carrot in olive oil and the soy sauce. Season with salt and set aside.
4. In a large bowl, combine the pre-made mash, fried veggies, rice, lentils, eggs, cheese and chicken mince. Mix thoroughly until all ingredients are well
combined. If you feel the mix is too wet just add 1/4 cup of breadcrumbs to bind the mix a little better.
5. Scoop up a tablespoon of mixture and shape into patties or whatever shape your toddler prefers to eat. Dip in  beaten egg then into
the breadcrumbs and onto the baking tray.
6. Bake for 20 minutes, turning once, or until golden brown.