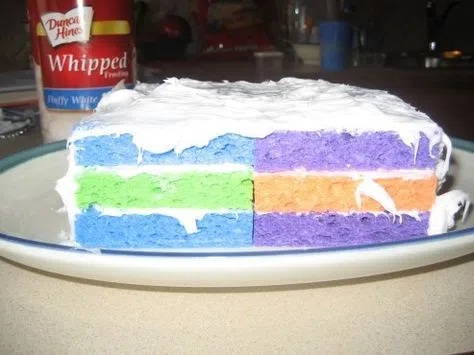 Easter lands on April 1st, and the first day of April to many means April Fools Day. So what we have is Easter April Fools Day.
Do you play any pranks? Have you been pranked bad (or good, to the pranker lol)?
Well, I have a simple one for you- All you need is a hollow chocolate Easter Bunny and a bottle of mustard.  Just take the bunny, make a small hole in the bottom, and fill it with mustard! Then recover with the foil (if it came covered with it, or just cover the hole with a tiny chunk of chocolate), then award the delicious Easter treat to someone you love, or well, maybe dislike (they'll likely hold that same feeling for you after this prank). Finally, watch them take a bite, and the hilarity ensue!
Ok, so you might get smacked, or cursed at, that all depends on the person's sense of humor. Something to note, since mustard tends to stain, you may want to take that into consideration when gifting the bunny to someone wearing their really nice Easter outfit. Also, you could easily substitute another condiment/sauce in place of mustard. BBQ sauce, ranch, etc. -GM
Other fun ways to prank this Easter-
THE UNCOOKED EASTER EGG: Yeah, bet you thought of this too. Instead of hard-boiling all the eggs, carefully decorate some uncooked ones, Simplemost.com says. Then watch the hilarity — or something — ensue as the victim tries to peel one or toss one into the Easter basket.
THE FAUX EASTER CAKE: On the OhHonestly.net site, billed as "real life for real Moms," blogger Lauren says, "No Easter dinner is complete without dessert. Sponge cake is the perfect spring dessert because it's so light and airy. This sponge cake will take it to a whole new level because it will be made with actual sponges."
THE A-PEELING CHOCOLATE EGG: You'll find this idea all over the Internet. Buy a bag of those small chocolate eggs and a pound of grapes. Wash and dry the grapes. Then, very carefully unwrap the foil off each chocolate. Take that foil and wrap it around the grapes. This might amuse kids of all ages — and no one will get messy or angry.
THE STUFFED EASTER EGG: Many websites suggest stuffing those plastic eggs with something other than candy. How about those cute, healthy, seasonal baby carrots? Or personally, we wouldn't mind chunks of honey-glazed ham.