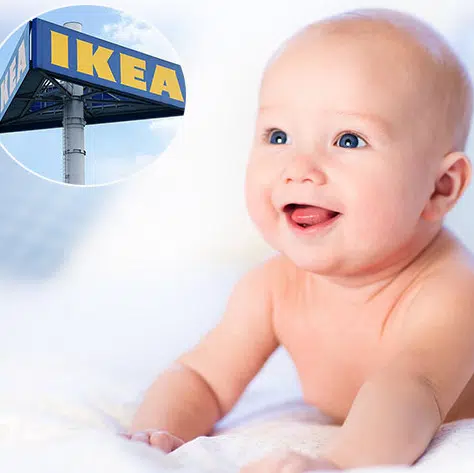 Last year it was baby names trending from Instagram filters.
This year…it's IKEA baby names, according to a blogger in the UK at least.
Is there something wrong with using traditional names or what? I get some of the uniqueness, but IMO it's getting out of hand lol. -GM
***********
Fans of Ikea are taking their love for the Swedish furniture brand to another level by naming their babies after the company's popular products. Mata, Tarva and Ingo could be the hot new names hitting the UK, according to mum LucyBC who took to the Baby Centre blog to share ideas from Ikea's catalogue.
"Naming your baby after Ikea furniture might seem ridiculous at first glance, but don't dismiss the idea," she wrote. "IKEA is known for the charming Scandinavian names it gives its products and many work surprisingly well as baby names."
While Malm, the bed frame favoured by many for its clean, solid wood design, might seem unusual to some parents, the mum has added it to her list of names that shouldn't be overlooked, along with Cilla and Ingo.
Other more quirky names from Ikea's catalogue include Kallax, Ribba and Klippan, which are some of the firm's best-loved items. Parents looking for a unique moniker for their new baby could even opt to name them after the Stockholm rug, the Ektorp sofa or the Docksta table.
Here's the full list of LucyBC's Ikea-inspired baby name ideas:
• Malm
• Tarva
• Stefan
• Ivar
• Tobias
• Stig
• Franklin
• Ingo
• Fredde
• Sommar
• Norna
• Cilla
• Malinda
• Elly
• Henrika
• Johanne
• Mata
• Mydal