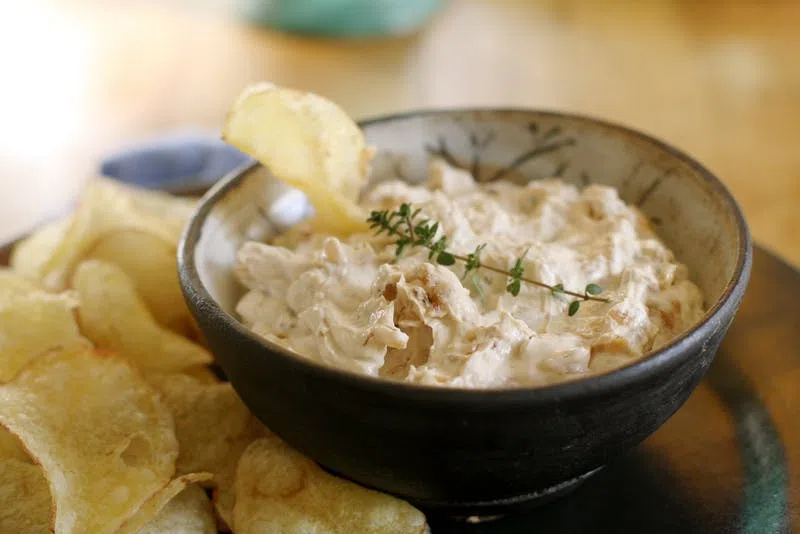 The classic French onion soup dip recipe from my childhood involved folding a packet of dried soup mix (either Knorr or Lipton) into a container of sour cream. You might have gotten a little fancy and added in a few dollops Hellman's Mayo, but basically that was it. It was usually served with potato chips although occasionally, if someone was on a diet, a few spears of carrots and celery would make an appearance. Oh, the good old days! Here is an updates version for you to try…enjoy
French Onion Dip with Caramelized Onions and Greek Yogurt
1/4 cupoil (olive or canola or rice bran)
4medium yellow onions, finely chopped (about 4 cups)
Pinch of salt
1large clove garlic, minced
1 tablespoonWorcestershire sauce
2 sprigsfresh thyme (optional)
2 cupsplain Greek-style yogurt (either no-, low-, or full-fat)
Freshly ground black pepper
1 teaspoonsalt
Add the oil and onions along with a big pinch of salt to a large sauté pan. Cook over medium heat, stirring frequently, until onions caramelize into a deep brown color. This may take 15 minutes or more. You may need to add a splash of water or wine towards the end if the onions begin to burn.
When the onions are done, add the minced garlic and stir for several seconds until you can smell the garlic. Turn off the heat and stir in the Worcestershire sauce. Strip the leaves from the two sprigs of thyme and add to the onions. Let cool.
In a bowl, mix the cooled onions and the yogurt until blended. Stir in several turns of freshly ground black pepper. Taste for salt. If you are serving this with salted chips, be sure to use one for your final tasting so you can adjust accordingly.
Serve garnished with a sprig of thyme and surrounded by your dippers of choice (see below). This dip can be made a day in advance, kept well-covered in the refrigerator.