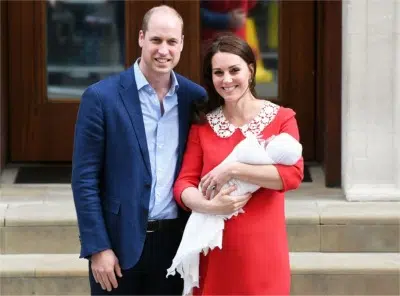 Well, in case you missed it yesterday, Duchess Kate and Prince William welcomed baby No 3. The Duchess and Prince were met by the press as they were leaving St. Mary's Hospital in London with the baby boy, and we have the pictures!
As of yet, William and Kate have not announced his name, but his official title will be, His Royal Highness Prince Whatever of the United Kingdom of Great Britain and Northern Ireland. His title will be stylized as, His Royal Highness Prince Whatever of Cambridge. His older sister, Princess Charlotte also made history yesterday. The two-year-old royal is the first royal child to not lose her spot in line as female heir to the throne due to the birth of her male baby brother.
Thanks to the Succession to the Crown Act, passed when Princess Charlotte's mom Duchess Kate was pregnant with Prince George in 2013, the eldest child, regardless of gender, will precede his or her siblings in succession to the throne. Princess Charlotte is now fourth in line to inherit the throne, behind her brother Prince George at number three. Their dad is number two and his father, Prince Charles, is first in line.