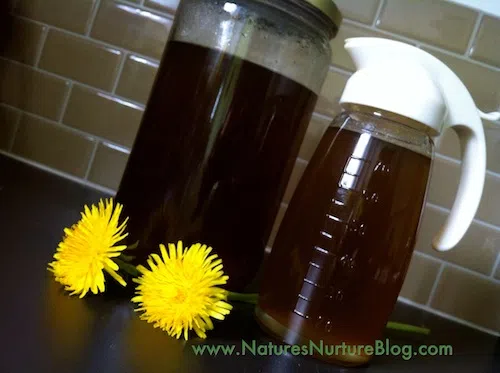 Next time you are thinking about all those yellow blooming weeds in your lawn….you may want to harvest them instead of tossing them into the compost.
Dandelion flowers are steeped overnight, then sweetened with organic cane sugar and raw honey, and simmered until thickened into a sweet syrup. Perfect for waffles and pancakes!
Ingredients
125 dandelion flowers (about 1 1/2 cups of petals)
3 cups water
2 – 3 cups organic cane sugar (or sweetener of choice)
1/4 – 1/2 cup raw honey
juice of half a lemon (optional)
Instructions
Wash flowers and dry on a towel. With a knife, cut off the petals as close to the base as possible.
Put petals in a medium pot and cover with water. Bring to a rolling boil, and allow to boil for 30-60 seconds.
Remove from heat, cover, and allow to steep overnight in a cool place. A cool counter or the fridge is ideal.
Next morning, strain the liquid into a sieve over a bowl. Use the back of a spoon to squeeze out and extract as much liquid as possible.
Return water to pot, add sugar and lemon, and simmer on low heat for 1-1 1/2 hours, stirring occasionally.
Check for desired consistency by dipping spoon into syrup, letting it cool a bit, then testing it with your finger.
Store in an airtight, glass container in the fridge.