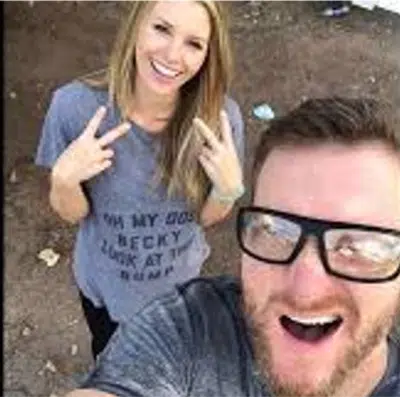 As you may have heard, Dale Earnhardt Jr. is officially a new father. He and his wife, Amy, became parents April 30, when she gave birth to their daughter, Isla Rose. Now that they've shared the good news and the NASCAR world has celebrated the sport's most famous baby, the Earnhardts are adjusting to being parents. On his first episode of the "Dale Jr. Download" podcast since his daughter arrived, Junior discussed all things fatherhood, and shared some funny, touching and adorable details that he's learned about Isla in her first few days, including the fact that he actually likes to change diapers, and that she grunts. A lot!
1. She hiccups… a lot
Surely a newborn's hiccups are adorable, but Earnhardt was surprise by how frequently they come and how powerful they are. "They hiccup so much! Like 10 minutes of hiccups!" he said. "So that's interesting because you can't do anything about it, and they're heavy. They're big. For a little, tiny thing to hiccup, it's like it rocks her world."
2. He actually likes changing diapers
Why, exactly? We'll just let him explain. "I enjoy changing her diapers, but at the same time, that's probably the one activity she doesn't like," Earnhardt said. "I know when I go to change her diaper, she's going to get upset. I like to change her diaper because it's a parenting experience to keep her clean and keep her dry and all those things. But she hates it. So I like that probably the best – the diaper changes – but it's something she doesn't like."
3. Although, he thinks he figured out specifically why she doesn't like it
"She hates her legs not being covered," Junior explained. "So when her legs are out, she's screaming. It's almost like a switch. You can cover the legs, and she's fine. Pull her legs out, she doesn't like it. The cold – just that little bit of temperature change (means) she's going to start crying."
4. But there's one diaper-related thing he isn't used to yet
Of all the things to feel weird about when it comes to changing diapers, this wouldn't have been our first guess. "I hate grabbing her by her limbs," Earnhardt said. "Like when you put a new diaper underneath her and have to pick her up by her legs, it feels uncomfortable to me. I just don't like it." When it was compared to roping a calf on the podcast, he totally agreed and added: "It is odd. I'm not quite used to it yet."
5. Isla has a lot of hair
This was obviously noticeable as soon as she was born, and even though the doctors told Dale and Amy about that before she was born, the new dad was still a little surprised. While we don't have a photo of her yet, here's Earnhardt's description of the newborn. "She has a lot of hair on her head. They were telling us in our ultrasounds that she had a lot of hair, and we're like, 'We don't really know what that means.' But they were really excited about that for some reason. So when she came out, those are the things you look at, and I was like, 'Yeah, she does have a lot of hair.' And she had all her fingers and toes and a cute, little face."
6. She grunts, too
"She grunts, constantly," Earnhardt said. "And she's fine. She's trying to use the bathroom, so she grunts like, "Ughh, ughh." This is what she does for hours."
7. But it's OK because she's grunting and smiling
"I didn't know how long it was going to take us to see her smile," Junior explained. "I couldn't wait to see her smile, and she smiles all the time when she's using the bathroom. So that, to me, was pretty interesting and funny."
8. She's got that Earnhardt smirk down
Isla is still only a few days old, but Dale Jr. is pretty sure she's already figured out one family characteristic. "She smirks the Earnhardt smirk some, where she does it to one side," he said. "I'm sure all babies do the one-sided smirk, but I like to tell Amy that's the Earnhardt in her coming out because that's how Daddy always smiled – and (nephew) Jeffrey and (older brother) Kerry."
9. But the new parents still aren't sure who she looks like
It's hard to figure that out when Isla is not even two weeks old yet, but the Earnhardts go back and forth on this subject. "Me and Amy look at her and don't see either one of us really. And I'll go, 'Maybe she's got your nose.' And then the next day, it's like, 'Ehh, maybe she's got my nose.' I don't know. 'I think she's got my ears. Ohh, maybe she's got your ears.' "And she has changed. In the first week, her little head and features and everything continue to change. And she changes colors. Her little hands will be purple and then regular looking. She's just amazing." Maybe his mother, Brenda Jackson, or sister, Kelley Earnhardt Miller, can help them figure out whose traits Isla has.
10. She makes the cutest noises
Like any parent, Earnhardt can't get enough of her. "She makes all these little noises. My heart melts. She's laying in that bassinet and just make a little baby noise and I can't wait for her to make another one. … When she's quiet, I miss her – if that makes any sense – when she's five feet away."
11. She's always on the move
Well, Isla's not literally going places yet, but Earnhardt says she's always moving around and joked that she's just working out. "She moves – they squirm all the time," he said. "She's, all the time, moving her limbs. Always – unless she's sleeping. If she's awake, she sits there almost expressionless, but moving limbs all the time. And that makes me think she's uncomfortable, but that's not it. She's just working out. That's surprising. You have to remind yourself she's OK. She's not uncomfortable."
12. But she's still surprisingly calm
Based on what doctors told the Earnhardts when Amy was still pregnant, this isn't what Dale Jr. expected. "Isla gets upset but it's really momentarily. It doesn't take a while to calm her right back down. And I know it's only been a few days, and she's wondering what the hell's going on and where she's at, but she's super calm. I'm so happy about that. "When she was in Amy's belly, she moved a ton, and in my mind, I'm thinking, 'Man, we've got a restless one here, and she's gonna be needy, needy, needy and upset and upset, easily flustered or sensitive or whatever.' But man, she is quiet and her eyes are – she's always looking around."