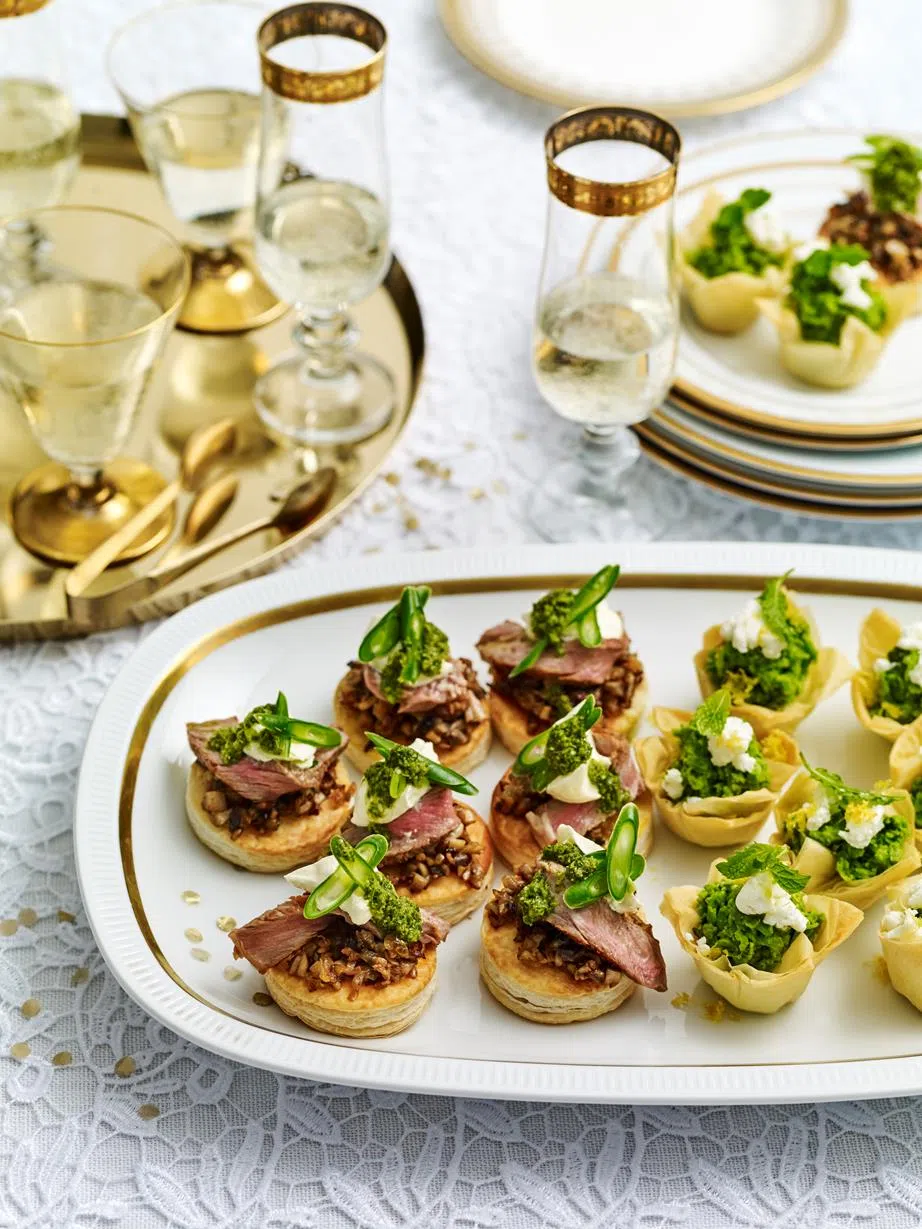 British themed food ideas for your Royal Wedding viewing party
Make your Royal wedding party one to remember
ENGAGEMENT ROAST CHICKEN SANDWICH BITES
MAKES 24
PREP TIME 15 MINS
½ barbecued chicken, skin removed, meat shredded
½ cup egg mayonnaise
½ cup sour cream
2 celery stalks, finely chopped
2 tbsp finely chopped chives,plus extra, snipped, to serve
¼ cup walnuts, toasted,chopped
16 slices wholegrain bread
40g butter, softened
3 baby cucumbers,peeled into ribbons
METHOD
1 – In a large bowl, combine chicken, mayo, sour cream, celery, chives and walnuts. Season.
2 – Spread bread slices with butter. Using a 4.5cm cutter, cut 3 rounds from each bread slice and arrange on a board. Top half the rounds with a little chicken mixture. Arrange remaining bread rounds, butter-sidedown, on top of the chicken mixture.
3 – Top with cucumber ribbons attached with toothpicks.
BEEF WELLINGTON BITES WITH SALSA VERDE
MAKES 32
PREP TIME 20 MINS
COOK 20 MINS + COOLING
2 sheets frozen puff pastry,thawed
30g butter
½ onion, chopped
2 cloves garlic, crushed
250g button mushrooms,chopped
3 tsp Worcestershire sauce
2 x 150g beef sirloin steaks
1 tbsp olive oil
100g baby green beans
creme fraiche, to serve
SALSA VERDE
½ bunch parsley, leaves picked, chopped
½ bunch watercress, leaves picked, chopped
¹⁄3 cup extra virgin olive oil
6 cornichons
2 tbsp white wine vinegar
1 tbsp capers
grated zest 1 lemon
METHOD
1 – Preheat oven to 220°C. Grease and line 2 oven trays with baking paper.
2 – Using a 5.5cm cutter, cut rounds from pastry and arrange on trays. Prick with a fork. Place a sheet of baking paper on top of each tray, then place another tray on top (this will weigh down
pastry for a lovely crunchy base). Bake 10 mins. Remove extra trays. Bake 4 mins until golden.
SALSA VERDE
3 – In a small food processor, pulse all ingredients until finely chopped. Season.
4 – Meanwhile, in a frying pan, melt butter on medium. Saute onion and garlic 2-3 mins until tender. Add mushroom, saute, stirring, 5-6 mins until tender. Mix sauce through. Remove from pan. Allow to cool.
5 – Season steaks well with salt. Heat oil in same frying pan on high. Cook steaks 3 mins each side or until cooked to your liking. Remove from heat. Set aside, loosely covered with foil, to rest 5 mins. Thinly slice.
6 – In a saucepan of boiling salted water, blanch beans 2 mins. Drain, refresh under cold water. Thinly slice beans on an angle.
7 – Top puff pastry rounds with mushroom mixture and beef. Dollop with a little creme fraiche and serve topped with sliced beans and drizzled with a little salsa verde.
ETON MESS SCONES
MAKES 12
PREP TIME 15 MINS COOK 15 MINS**
250g strawberries,sliced
1 tbsp icing sugar,sifted
2 cups self-raising flour
30g butter, chopped
½ cup buttermilk, plus a little extra, to brush
½ cup water roughly crushed meringues, chopped pistachios, to serve
VANILLA ROSE CREAM
300ml thickened cream
1 tbsp icing sugar
2 tsp vanilla bean paste
1 tsp rosewater essence
pink food colouring
METHOD
1 – In a bowl, combine strawberries and icing sugar. Set aside 30 mins.
2 – Preheat oven to 220°C. Lightly grease an oven tray.
3 – Sift flour into a large bowl. Add butter. Rub in lightly using fingertips.
4 – Make a well in centre of flour. Pour in combined buttermilk and water all at once. Using a butter knife, mix quickly to a soft, sticky dough. Don't over-mix.
5 – Turn onto a lightly floured surface. Knead lightly. Press or roll out to form a round about 2cm thick. Cut into rounds using a floured 4.5cm cutter.
6 – Place close together on prepared tray. Brush with a little extra milk. Bake 15 mins or until scones sound hollow when tapped. Cool scones on a wire rack.
VANILLA ROSE CREAM
7 – In a large bowl, using an electric mixer, beat cream, icing sugar, vanilla and rosewater until soft peaks. Swirl a little pink food colouring through cream (don't over-mix) and transfer to a piping bag fitted with a fluted nozzle.
8 – Split scones in half, top with sliced strawberries and vanilla rose cream. Sprinkle with crushed meringues and chopped pistachios to serve.