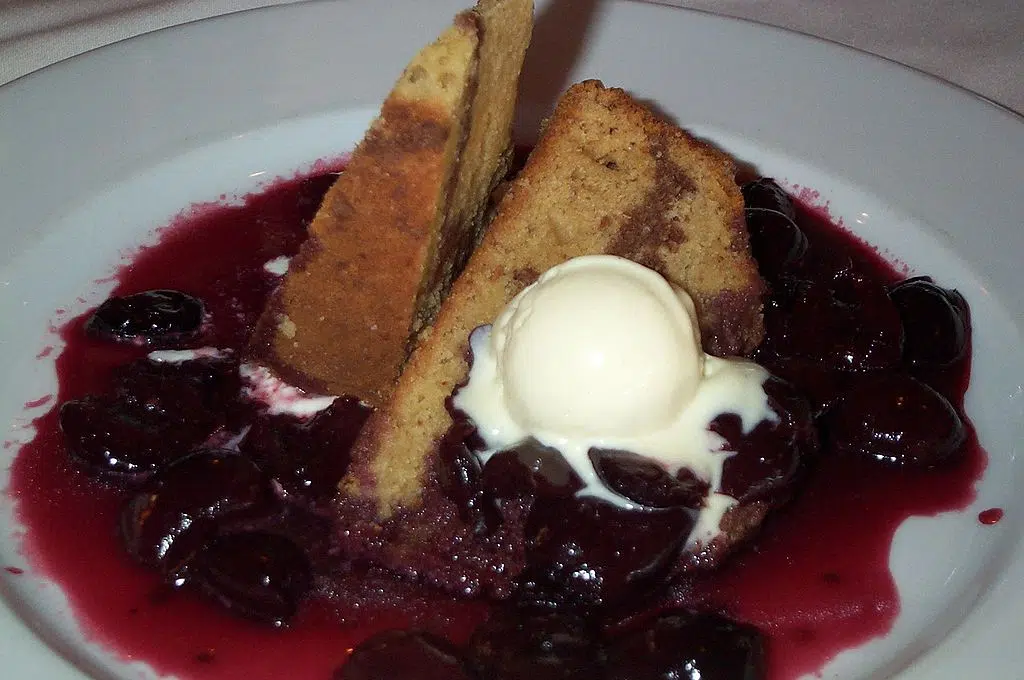 It's a royal wedding on Saturday and here is a royal favorite dessert.  You may want to whip up a batch!  Cherries jubilee is a dessert dish made with cherries and liqueur  which is subsequently flambéed, and commonly served as a sauce over vanilla ice cream.
The recipe is generally credited to Auguste Escoffier, who prepared the dish for one of Queen Victoria's Jubilee celebrations, widely thought to be the Diamond Jubilee in 1897.[1]
Cherries Jubilee
This easy but elegant holiday dessert works well for entertaining and is sure to impress your guests.
Ingredients
1/4 cup Land O Lakes® Unsalted Butter,  cut into chunks
1/3 cup sugar
1 (15-ounce) can dark sweet cherries, drained, reserve 1/4 cup juice
1 (4-inch) cinnamon stick, broken in half
1/2 teaspoon vanilla
1/4 teaspoon freshly grated lemon zest
Vanilla ice cream
 *Substitute Land O Lakes® Salted Butter. **Substitute 1 tablespoon cherry juice. ***Substitute 2 tablespoons apple juice. If using apple juice, cherries and sauce will not ignite.
How to make
STEP 1Melt butter in 10-inch skillet over medium-high heat; add sugar. Continue cooking, stirring constantly, 2-2 1/2 minutes or until mixture just begins to brown around edges.
STEP 2Add reserved cherry juice and cinnamon stick pieces. Continue cooking, stirring occasionally, 1-2 minutes or until mixture is reduced by half.
STEP 3Add cherries, vanilla and lemon zest. Bring mixture to a boil; stir in cherry liqueur. Add brandy. Shake pan to ignite brandy; continue cooking until flames subside. (If using electric stove or preparing table side, ignite brandy in pan with a long match.)
STEP 4Place ice cream into individual bowls. For each serving, spoon generous 2 tablespoons of cherries and sauce over ice cream.