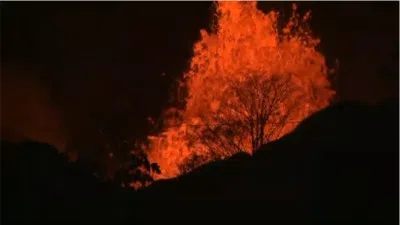 Thanks  to the folks at news8000.com, you can watch the sheer power of Mother Nature with a link to the live video feed of Mt. Kilauea erupting on the big island of Hawaii. Fascinating and scary all at the same time! Take a look:
And as if that weren't scary enough, Kilauea is now making blue fire. The U.S. Geological Survey says methane gas is seeping through the volcanic cracks east of Kilauea, creating blue flames.  A photo from the USGS shows blue fire coming through cracks in the streets that were abandoned because of lava.
A river of lava from Kilauea has flowed into residential neighborhoods on Hawaii's Big Island, forcing thousands from their homes. The Hawaiian Volcano Observatory says a new flow of lava will hit the ocean today, sending a haze of hydrochloric acid and volcanic glass particles into the air.  The observatory is warning people on the coast to stay from the haze, which can be deadly.