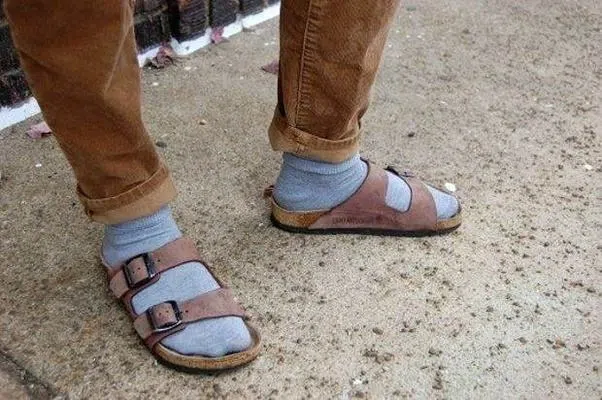 Before I even saw this article today I actually made the comment about how nice it is to have the option to wear shorts in the office. When the temps hit the 90's, a lot of people would love to do the same thing, but for some offices they just aren't appropriate work attire.
There are some far more obvious things than shorts, however, that you shouldn't be wearing to work when the hot weather hits. -GM
In a survey from OfficeTeam, 80% of managers said clothing choices could affect an employee's chance of getting promoted. The same survey found managers say tank tops, "cold shoulder tops," and shorts are less acceptable now than even five years ago.
Here are 13 things to avoid wearing to the office this summer.
1. Tank tops or halters
While there are plenty of work-appropriate sleeveless tops for women, tank tops and camisoles should serve as undergarments in the workplace. Layer it under a blazer or camisole.
As for men, only lifeguards should bare their shoulders at work.
2. Bare midriffs
Crop tops are fashionable, but most likely not appropriate for your office.
Some environments might allow it. Alexis Bennett of Self Magazine wrote about her experience wearing them for a whole week. Mind her disclaimer, though: "I work at a magazine where women are always expressing their own personal styles."
3. Shorts
Managers in the OfficeTeam survey highlighted this as a clothing item that has become less acceptable in the last five years.
Clinton Kelly, co-host of TLC's "What Not to Wear" reality series, told employment website Monster.com that women could consider shorts that reach the top of your knees — and no shorter. But men should steer clear of them entirely.
"Generally speaking, shorts aren't appropriate for professional environments because they can show too much skin, and that can be distracting," Britton told Business Insider.
The same goes for short skirts.
4. And no cut-offs, ever
In general, frayed or ripped clothes are a no-go. Ripped clothes that show a lot of skin are a double no.
"Stick to a smarter denim pick if your workplace allows jeans, and save the frayed short shorts for the weekends," said former Teen Vogue editor Mary Kate Steinmiller to Who What Wear.
5. Anything you bought for the beach or swimming pool
You can group cut-off shorts in this category, as well as swimsuits, sarongs, and anything else that says "beach" more than "boardroom."
6. Anything strapless
For women, sleeveless shirts are a workplace staple, but tube tops and strapless dresses are definitely not office-appropriate.
"The more skin you show, the less influence you have," etiquette expert Anna Post wrote in Reuters. "Do you really want to work harder to earn the respect of your co-workers and boss?"
If you really must wear that strapless top, layer it under a blazer or cardigan.
7. Flip flops
Managers told OfficeTeam that flip flops have become less acceptable in the last five years.
"It's hard to take people seriously with flip-flops on," Britton of OfficeTeam told Business Insider. "People may question if your work ethic is as relaxed as your footwear."
And, as Business Insider's Dennis Green summarized about men's feet in the ubiquitous sandle, "No one needs to see that."
8. Socks with sandals
Men: Don't try to get around the "keep your feet hidden" rule by sporting socks with your sandals.
It's a clear fashion faux pas, and one that you shouldn't be committing at the office. (Unless you're a runway model or Justin Bieber.)
9. Yoga pants
Business Insider has already told you a few times to avoid yoga pants at work, and we're telling you again.
The super-tight pants aren't professional or tailored enough to be seen in the office.
"As with all dress codes, casual dress can mean different things at different companies," Post said. "One standard that helps define appropriateness is to ask yourself: 'If I were to have an unexpected meeting with a client or the chief executive, could I go dressed in what I have on?'"
10. Visible underwear
That means no low-rise jeans with boxers or undies peeking out, and it also means no bra tops. Save that for your Saturday night.
12. Sunglasses (indoors)
Society in general can agree that sunglasses indoors look ridiculous. Don't wear them propped on your head all day indoors, either.
13. Anything sheer
Light and thin clothing can be a relief in the summer. But find another way to cool off on your walk to work.
"My office attire pet peeve is sheer clothing," said Hillary Kerr, co-founder of Who What Wear. "Whether it's a thin t-shirt, a diaphanous blouse, or a slightly transparent dress or skirt, it's just not right for a professional setting. Save it—and the pretty bra you wear with it—for the weekend or some other off-duty situation, please."