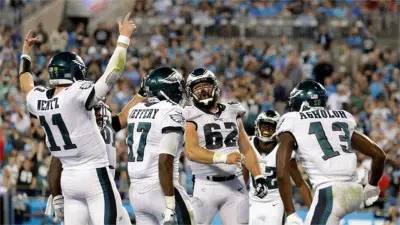 Read this on News8000.com, and regardless of where you stand on the National Anthem controversy, you'll find this interesting. President Trump has cancelled his invitation to the Super Bowl Champion Philadelphia Eagles to visit the White House. The team was supposed to meet with the President today but he rescinded their invitation reportedly because the full team would not be in attendance in what Trump speculates would have been a move of protest against his stance that players stand before games during the National Anthem. And now the mayor of Philadelphia is calling President Donald Trump a "fragile egomaniac" for dis-inviting the Champs. Mayor Jim Kenney says he's proud of the Eagles' activism, saying they stand up for the causes they believe in and contribute in meaningful ways to their community.  Kenney then said that this proves "that our President is not a true patriot, but a fragile egomaniac obsessed with crowd size and afraid of the embarrassment of throwing a party to which no one wants to attend."
So what do you think? For myself, I believe we should all stand as an acknowledgement that, regardless of disagreements, we all stand under one flag. This country has it's problems, but maybe if we stand together during the national anthem, it would be a good starting point for coming together.
As for whether the Pres should have rescinded his invitation, I say no. He should have taken the high road here and made sure those on the team that do support the Anthem get the chance to meet with him. It's a complicated issue, isn't it?