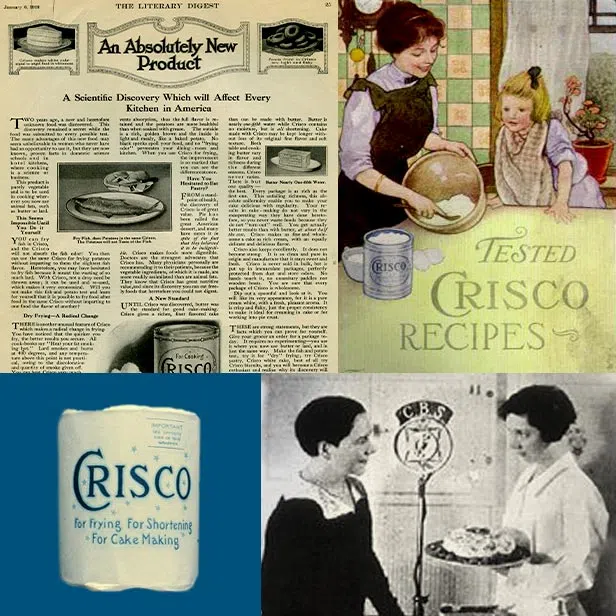 Here are a bunch of uses for Crisco….however I think the last idea is the best….read on.
Clean grease and dirt from hands. Rub in Crisco
Shortening before using soap.
Make white clown makeup. Mix two tablespoons
Cornstarch with one tablespoon of Crisco
Shortening. For colored make-up, add a few drops of food
coloring.
Remove lipstick from clothes. Rub in a dab of Crisco All
Vegetable Shortening, then rinse the stained area with
Club Soda.
Season new cast-iron cookware. Rub the cookware with a thin
coating of solid, unsalted Crisco  Shortening, bake
in an oven heated to 200 degrees Fahrenheit for two hours.
Repeat this procedure after the first few times of use.
Revitalize wooden salad bowls. Rub with Crisco
Shortening inside and out, let sit overnight, then remove excess
with paper towels.
Clean ink from hands and vinyl surfaces. Apply Crisco
Shortening and wipe clean.
Preserve a wooden cutting board. Rub with Crisco
Shortening over the cutting board, let sit overnight,
then remove excess with paper towels.
Polish rubber galoshes. Rub on Crisco
Shortening.
Remove homemade candles from molds easily. Rub a thin
coat of Crisco Shortening on the inside of the
candle mold before pouring in the hot wax.
Remove tar from clothing. Scrape off as much tar as possible,
place a lump of Crisco All over the spot,
wait three hours, then wash.
The best use for good old Crisco is frying chicken….it just makes you feels better about life.