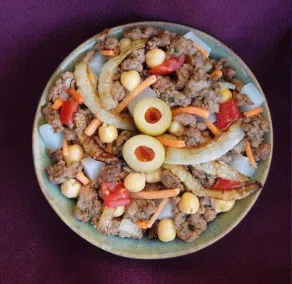 I've been talking recently about attending the MN State Fair again, since it's been like four years since my last visit. The new foods for this years's annual gathering of Midwesterners (and beyond), may just be the final push for me to make plans to road trip..
Here are are just a few of my favorites!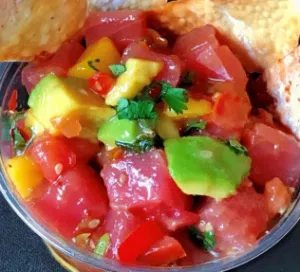 Ahi Tuna Poke Bowl (Cafe Caribe- South side of Carnes Ave. between Chambers & Nelson streets)
Ahi tuna, avocado, mango and pico de gallo tossed in a Hawaiian ginger-soy sauce served cold over rice with a fried wonton.
Bananas Foster French Toast (Hamline Church Dining Hall- North side of Dan Patch Ave. between Underwood & Cooper streets)
Cinnamon swirl French toast topped with slices of fresh bananas in an orange-rum-flavored caramel sauce and finished with a dollop of whipped cream.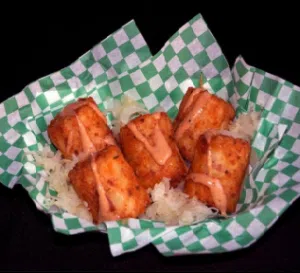 Irish Tater Kegs  (O'gara's at the Fair- Southwest corner of Dan Patch Ave. & Cosgrave St.)
Jumbo deep-fried tater tots made with a blend of corned beef, sauerkraut, Swiss cheese, sour cream and potatoes drizzled with house-made Thousand Island dressing and nestled on a bed of sauerkraut.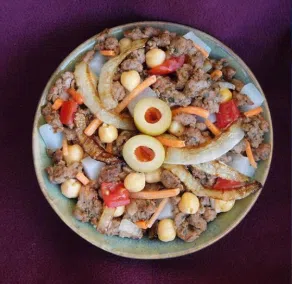 Moroccan Sausage Bowl (Sausage By Cynthia- North side of Judson Ave. between Nelson & Underwood streets)
Coarse ground beef and lamb sausage seasoned with herbs, sweet spices and a hint of red pepper, cooked with carrots, turnips and chick peas, and topped with sautéed onions and a green olive.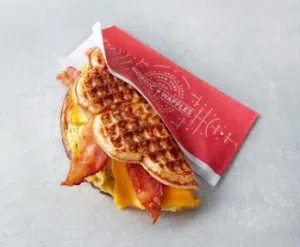 Nordic Waffles  (West End Market, southwest section)
Fresh-made waffle wraps in seven varieties: All-Day Breakfast (egg, bacon & cheddar); Berries & Cream (raspberry & strawberry mixture with vanilla cream); Cinna-Sugar Butter (cinnamon, sugar & butter); Slammin' Salmon On-A-Stick (Norwegian smoked salmon with cream cheese & green onions); S'More (marshmallow crème, crumbled graham crackers & Nutella); Turkey Chipotle Club (turkey, bacon & mixed greens with Sriracha mayo sauce); and Vegetarian Viking (black bean veggie burger, cheddar cheese, mixed greens & chipotle sauce).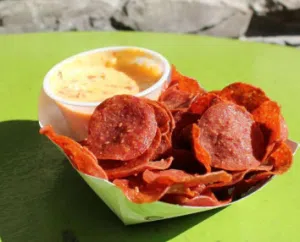 Pepperoni Chips w/Roasted Red Pepper Queso (Lulu's Public House, At West End Market, south of the Schilling Ampitheater)
Thinly sliced fried pepperoni chips served with a warm roasted red pepper cheese sauce.
All photo credit and the complete new food list: Minnesota State Fair