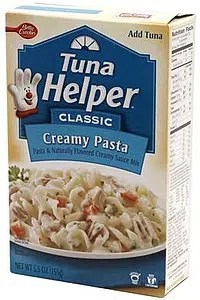 The pasta brand "Hamburger Helper" was first introduced in 1971.  In 2005, Food Network rated Hamburger Helper third on its list of "Top Five Fad Foods of 1970".
In 2013, the company shortened the brand's name to "Helper"
The Hamburger Helper mascot is the "Helping Hand" or "Lefty": a four-fingered, left-hand white glove, with a face on it and red spherical nose. It often appears in the product's television commercials and on their packaged products
The basic and most popular version of Hamburger Helper is a box of dried pasta with seasoning, to be cooked with ground beef. Hamburger Helper offers a variety of flavors that include Lasagne, Cheeseburger Macaroni, Bacon Cheeseburger, Philly Cheesesteak, and others. There are also variations using other foods, such as tuna and chicken, named "Tuna Helper" and "Chicken Helper".
Tuna Helper was the second variety to appear on the market, in 1972.
Fruit Helper was introduced in 1973. These were dessert products made with canned or fresh fruit. The Fruit Helper line has since been discontinued
Chicken Helper was first introduced in 1984 in response to the wide availability of inexpensive boneless and skinless chicken breasts.
Asian Helper is a selection of four main Asian-American-style dishes, three made with chicken and one with beef.
Whole Grain Helper options include Lemon & Herb Chicken, Honey Mustard Chicken, Cheeseburger Mac, and beef Stroganoff flavors made with whole-wheat pasta
Pork Helper was introduced in 2003. Varieties included pork fried rice and pork chops with stuffing. The product was discontinued shortly after its introduction.
Hamburger Helper Microwave Singles were introduced in 2006. This product requires water and brief cooking in the microwave to produce a single serving portion of some of the most popular flavors. Chicken Helper flavors were added in 2007 despite the brand being discontinued shortly thereafter. It returned in 2013 as Chicken and Chili Helper