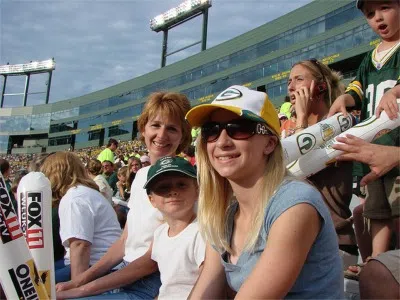 OK, I don't buy this at all! Some guy named Michael Lewis of Emory University came out with his annual study of the best and worst fan bases in the National Football League. For the second consecutive year, the Dallas Cowboys and New England Patriots boast the NFL's best fans, according to the study. Where does he put the Packers? Number 9! No way! This dude says,
"The Cowboys excel on all the metrics.  They win in terms of Fan Equity (a revenue premium measure of brand strength), Road Equity and finish second in social media.  The underlying data (I will spare everybody the statistical models) reveals why Dallas does so well.  The Cowboy's average home attendance usually leads the league, fans are willing to pay high prices, and the team's twitter following is exceptional.  The Cowboys are America's team."
I call BULL! Even opposing teams say Packer fans are some of the best in the league! I get really tired of this "Cowboys are America's team," talk.
Rounding out the top five are the Philadelphia Eagles, New York Giants and Pittsburgh Steelers. No real surprise there given that all three teams exist in large markets and have earned a Super Bowl title over the past decade. And Vikings fans should be really ticked, since he put the Vikes at #24! Here's a chart of his standings: