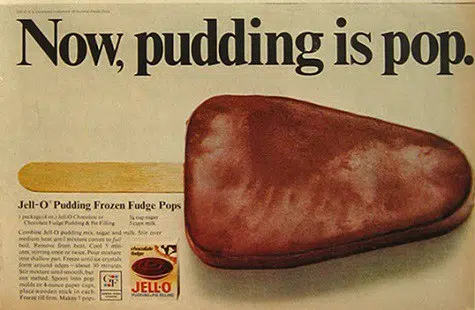 Do they still make pudding pops? NO, they do not. I know, I'm as bummed as you are about it. You cannot buy Jell-O pudding pops anywhere, there are none left to buy. During the 1980s, Jello pudding pops were featured freezer treats in millions of American homes. Fudgsicles never really had anything on them.
General Foods decided to try putting Jello Pudding into the freezer in 1979. Even before that, however, in the 1960's, they had run ads featuring recipes for "Jell-O Pudding Frozen Fudge Pops" saying "Now, pudding is pop." Jell-O had a glorious history and had been pretty much a standby in our homes for decades.
As ideas go, it was a great one. The company blitzed the airwaves with the Cos, and sales hit almost $100 million the first year. And they had all the "good stuff that moms approve."
Even into the 1990's pudding pops were doing well. However, believe it or not, despite how many pudding pops some of us put away while growing up, they weren't profitable. Since the company was not in the frozen food business, it cost more money than could be reasonably returned. Even with all those sales, the company found it hard to make any money on them.