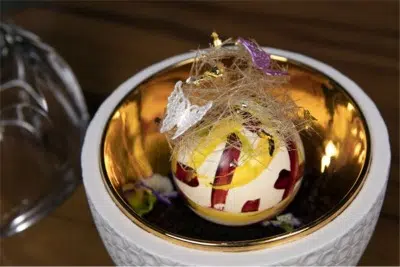 If you're an ice cream lover, listen up: We found the most expensice ice cream sundae in the US. The "Bear Extraordinaire," debuted yesterday at the Baccarat Hotel in Manhattan, and it will set you back a cool $1,500!
So what do you get for your $1500? The base of the dessert is house-made vanilla ice cream, using imported vanilla beans from Madagascar. The ice cream is covered in a white chocolate shell that's hand-painted with colored cocoa butter. It sits atop 3 ounces of black truffle crumble, which is portions of black truffle mixed with high-end 64 percent Manjari dark chocolate, also from Madagascar and Valrhona Gold cocoa nibs. Enveloping the shell is a hibiscus champagne sauce, with citrus meringue, and it's further embellished with delicate fondant butterflies sitting on angel hair sugar strands. Edible gold and silver leafing add an expensive touch of color.
Even fancier than the sweets is the dish, which gives the dessert its name. The ice cream is served in a $1,200 clear Baccarat "Zoo Bear" crystal bowl, which has a porcelain base decorated with a honeycomb motif and is topped by crystal in the shape of a friendly bear's face. Diners who buy the treat get to keep the figurine, which is individually numbered and signed by the designer.
Source: cnbc.com