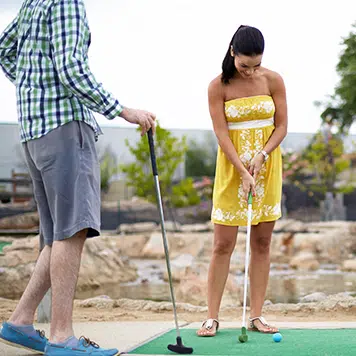 While it's easy to decide to "go out for a drink" on a first date, there are plenty of other activities you can partake in that don't involve alcohol. After all, perhaps the person you are meeting doesn't drink, is on a cleanse, or just doesn't like the taste. And honestly, taking on a first date sober can get you in touch with their (as they can your) authentic personality that's not clouded with alcohol. It might take getting used to, but give it a try and you'll see the difference.
-GM
*********
1. 

See An Outdoor Movie Or Concert

Who doesn't love seeing a movie or concert at night under the stars? Well, summer is the perfect time to do so. "During the summer, find a fun and free outdoor movie or concert in a park, bring a picnic (see #4), and leave the wine at home," Julie Spira, CEO, Cyber-Dating Expert, tells Bustle. "Afterwards, go get dessert — take a walk to grab a frozen yogurt or ice cream and have fun together tasting the samples."
2. 

Take A Boat Ride

A date by the water is not only picturesque, but also perfect during the summer months. "Go have iced coffee drinks by the lake/ocean/river, preferably with a city view," Selby says. "This way, you can enjoy the environment while getting to know each other."

Jessica Elizabeth Opert, feminist love coach, also thinks the water is a great first-date destination that doesn't have to involve alcohol. "Go for a boat ride, whether it's a paddle boat … or just renting a small row or motor boat and taking your date to the open waters," she tells Bustle. "There is something timelessly romantic about a boat ride for two." Plus, she says between getting to know each other, you can take in the scenery.
3. 

Visit A Bookstore

Bookstores make for great first-date locations, and usually only sell non-alcoholic beverages, so they're a win-win. "If the weather gets too hot, take a break and tour a bookstore," Selby says. "Enjoy a cool spot where you can share your book preferences and discover each other's tastes and loves, seeing commonalities and differences."

Jessica Cline, psychotherapist at Cline Counseling & Consulting, LLC, specializing in relationship therapy/coaching with experience working with introverts and HSPs, agrees. "Go to a bookstore, and hopefully one with a coffee shop," Cline says. She, too, suggests that you and your date point out your favorite book(s). "Then, you can chat about your findings over coffee afterwards," she says.

Spira also says that bookstores are great venues for lectures and book signings. "See if your (or your date's) favorite author is in town or find an interesting lecture at a bookstore, both of which are sans alcohol."
4. 

Have A Picnic

Picnics are wonderful first-date activities, especially if you're not drinking; plus, you can have a picnic anywhere, from the park to the beach. You can both bring your favorite snacks or foods, and then grab coffee or ice cream afterwards. Or, you can move on to a new date location.

"Instead of just going out to eat, plan an outdoor picnic instead," Davis says. "Pick a spot that has other activities around, too, that you can do together after you eat."
5. 

Visit A Botanical Garden

Visiting a botanical garden provides for a nice alcohol-free date setting, too. Plus, all the colorful flowers and trees will make a beautiful backdrop for your date.

"The botanical gardens provides a space to walk, sit, and talk without the intensity of sitting across from each other," Dr. Elizabeth Cohen, a clinical psychologist who specializes in dating and relationship issues, tells Bustle. "I also think that discussing nature is a very humanizing and grounding experience."
6. 

Go To A Baseball Game

Even though you may think that beer and baseball go hand-in-hand, there's so much more to drink than beer. "Overall, baseball games have constant entertainment that keep energy levels up, so you're sure to have a great time," Lori Bizzoco, relationship expert and founder of CupidsPulse.com, a first-of-its-kind entertainment site, tells Bustle.

Adam C. Earnheardt, Ph.D., Chair and Professor of the Department of Communication at Youngstown State University, also thinks that sporting events, baseball or not, make for great first dates. "Sporting events are great because you can settle in and talk while you watch the game, people-watch, or be a rowdy fanatic," he tells Bustle. "The best part about a live sporting event is that there's something for everyone, and you can still focus just on your date, too."
7. 

Visit A Museum

Museums are another ideal venue for non-drinking first dates and, chances are, you can find one that suits the both of you. Some even have events in the summer, along with free appetizers.

"Museums offer an option to talk about objects rather than just about yourselves," Dr. Cohen says. "Talking about yourself leads to more anxiety, which is why people want to drink on a date. However, the reason behind not drinking is that we need to be fully aware of other people's behavior, as well as our own behavior."
8. 

Play Mini Golf
Not only is mini golf fun to do on its own, but some venues have video and carnival games, too. "Mini golf is one of the best non-alcohol dates because it doesn't require a lot of skill and it's still a physical activity," Dr. Earnheardt says. "You can choose whether or not to be competitive, and you can still have great conversations. I was once on a blind date and, for every hole I won, I got to ask my date a personal question to find out a little more about her; I'm a terrible golfer, so she found out a lot more about her than I did about her. (And yes, there was a second date.)"
9. 

Do A Water Sport

Summer also means an endless number of water sports, such as surfing, tubing, and standup paddleboarding. A first date is as good a time as any to try one out. "Take advantage of the nice weather and beautiful scenery and find something you can do together, such as paddleboarding or other water activities," Davis says.
10. 

Do Something Active

Just because summer seems to be all about the beach and water sports, there are plenty of non-water actives you and your first date can do, too, all without alcohol. "You don't have to be a super athlete, but going on a bike ride together, or a hike, will amp up the endorphins on your date," Spira says. "If the weather's good, there's no reason to be indoors. If you want to make it more romantic, rent a tandem bike."
11. 

Visit An Amusement Park

The great thing about amusement parks is that they're perfect, no matter what age you are; plus, you can often find discounts for them. "An amusement park date is a great way to bring out the inner child in you, from the days before you were allowed to drink," Spira says. "Take a ride on the ferris wheel, crash into each other in bumper cars, get close to one another on roller coasters, then follow it all up with snacks and non-alcoholic drinks."

All in all, the more you go on non-drinking dates, the more alcohol ideas you'll get. And, when you think about it, there are more pros than cons to not drinking on a date, especially on a first date