Wow! Take Look at This Hair!
A 6-month-old Japanese girl has captured the hearts of Internet users everywhere, but not because of her chubby cheeks or big, round eyes. It's all because of her amazing head of hair! Baby Chanco, as she's called, has more than 100,000 Instagram followers since the first photo of her full, dark hair appeared on the social media site. Chanco was born in December 2017 with a head full of hair, and her mane has showed no signs of slowing down. Her Instagram account, by the way is aptly titled "Hair Diary."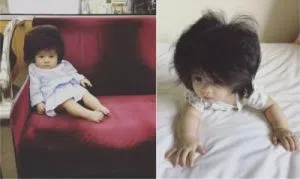 Original Or Extra Crispy?
Wanna look like the Colonel? Now you can! Fans of KFC's Colonel Sanders now have the chance to own a suit worn by the pop culture icon. Up for grabs on Lelands.com, the set comes with a white cotton suit jacket, collared shirt and pants, all owned by the fried chicken fanatic. The 1967 suit also comes with a black bow tie. So far the bid has surpassed $2,000 as of this morning. The Colonel's suits have sold for tens of thousands of dollars in the past. In 2013, a suit sold for more than $21,000 at a Dallas auction. The last suit sold at Leland's was purchased for around $5,000 in 2014.
What A Drag!
And finally, we have a short but weird video for you. A surprised traveler in Utah captured video of another driver going down the road with a mattress stuck under their front tire. The video shows a white sedan traveling down the highway while dragging a mattress that appears to be partially stuck in the front driver's side wheel well. The occupants of the car that filmed the mattress can be heard expressing surprise and confusion at the sight and the fact that the driver of the mattress-dragging car appears to be smiling about the situation. We guess some things just defy explanation: