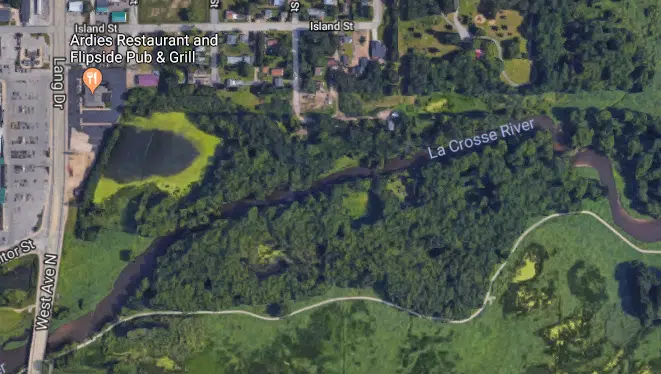 I first noticed the buildings and structures, obscured by the trees and shrubbery, shortly after I moved to the La Crosse area over five years ago. Since then, I hadn't really thought much of it…until now.
After recently walking off the paved trail in the marsh, and up next to the fence on the wood line for a closer look, I saw a little more of the buildings and whatever else sits on the property. I was even more so intrigued after recently paddling the La Crosse River, and noticing a cage-like contraption on cables that spans the river to the "island" in the marsh, which with the high water had ultimately made it one. It appears to provide access to some type of little houses on the banks of the other side of the river. Weird.
I can't make much out as to what the buildings are for, or, if this is just someones house and random buildings, and it just isn't accessed that often. Well, it doesn't look like people frequent the property anyway. From what I can tell it's just someone's private property, as the signs proclaims, on the pad-locked gate that provides access to the dirt path leading to the mystery of the marsh..
I was just wondering what the story on this area is, so if you have some insight, please do tell.
-GM