So Do You Buy Identical Gifts!
Wedding guests in Michigan will be seeing double this weekend, when identical twins Krissie and Kassie Bevier walk down the aisle to marry identical twin brothers Zack and Nick Levan. The two sets of 24-year-old twins will share a joint wedding reception on Saturday. Kassie and Nick will have their ceremony earlier that day, while Krissie and Zack will say their "I dos" tomorrow. Not only are the foursome getting hitched over the same weekend, but they also got engaged at the same time, when Nick and Zack proposed to the Bevier sisters together in February of 2017. They'll compromise on their honeymoon, spending four days apart on separate vacations before meeting in the middle for a few days at Disney World. And here's the interesting thing: Once their weddings are over, the newlyweds plan to live together in a two-bedroom apartment!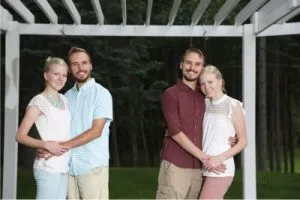 Now You Can Really "Enjoy The Go!"
Do you need a lifetime supply of toilet paper? Then you should get in touch with the State Department. The US Embassy in London, which recently moved to a new building from the one it kept for more than 200 years, is cleaning house and putting all kinds of things up for auction, including 1,200 rolls of "mini jumbos" toilet paper, with a current bid of $335, which works out to about $.28 cents per roll. Apparently, the rolls don't fit the dispensers in the new building. And by the way, if you need paper towels to go with the toilet paper, they're also auctioning 756 rolls of paper towels with a current bid of $291!
Better Hide The Cat!
And finally, TV reboots are continuing, and this time a lovable little alien may be making a return, as ALF is returning to Earth. A reboot of the 1980s sitcom ALF is now in the works at Warner Bros. The reboot of the series, starring the friendly alien ALF, who lands in the home of a middle-class family, would reportedly focus on ALF returning to Earth, with a new family and characters. The original series ran for four seasons on NBC. And here's a bit of TV trivia: ALF stood for "Alien Life Form."