Forever America's Dairyland
It's not that we need to prove to anyone that Wisconsin is the king of all things cheese, but a new world record should drive the point home. Folks in Madsion have put together a 4,437-pound cheese smorgasbord that has smashed a Guinness World Record for the world's largest cheese board. On August 2, the Dairy Farmers of Wisconsin united 145 different varieties, types and styles of cheese atop a board measuring 35 feet long and 7 feet wide. The ultimate cheese lover's fantasy was a true team effort, taking over 60 people to prep, transport, house, style and weigh all of the cheeses. The spectacle surpassed the previous European record holder by 1,000 pounds.  The centerpiece of the creation was a 2,000-pound wheel of Henning's cheddar, other special cheeses on display included blue-veined and cave aged Cheddars, fresh Feta, pungent Brick and of course Cheese Curds!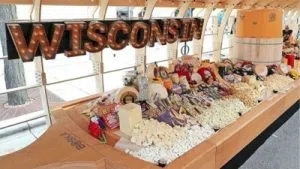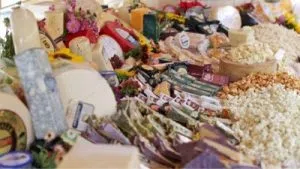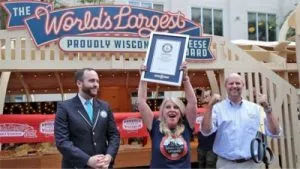 Make It So!
Star Trek fans rejoice! It's official: Patrick Stewart is returning to the Star Trek franchise. The acclaimed Shakespearean actor is set to headline a new Star Trek series for CBS All Access, reprising his iconic Next Generation character, Captain Jean-Luc Picard. The project, which has been rumored since the June announcement of a Star Trek universe expansion with new series, was just unveiled by Stewart himself in a surprise appearance at the Las Vegas Star Trek Convention. The new series, which is not a Star Trek: Next Generation reboot, will tell the story of the next chapter of Picard's life. Stewart is one of the most popular stars of the Star Trek franchise. He headlined the Star Trek: Next Generation series for its seven-season run and also portrayed Picard in four Star Trek movies.
And we note wih sadness the passsing of actress Charlotte Rae, best known as wise and lovable house mother Mrs. Garrett on The Facts of Life. She died Sunday at her home in Los Angeles at the age of 92.
Rae revealed she'd been diagnosed with bone cancer at the end of April 2017. Rae first played the kooky but kind housekeeper Edna Garrett, unmissable thanks to that mound of bright orange hair, on "Diff'rent Strokes," and when she became a popular breakout character, Rae herself proposed the spin-off. That spin-off became "The Facts of Life," a sitcom about a girls' boarding school. Rae shared many of her Hollywood experiences in her memoir, The Facts of My Life, released in 2015.