Planning a trip to see the foliage this fall? While you can fairly easily guess the general time to see those yellows, oranges, and reds each year, your timing needs to be impeccable to see peak colors. If you're in need of some guidance before booking a trip, look no further than SmokyMountains.com. The web site has compiled its annual interactive fall foliage map for 2018, offering predictions for when to see peak foliage in every county in the U.S. For our area, the map predicts we'll see peak colors sometime around the second week of October.
A video of a California couple's very unique gender reveal has gone viral.  Jennifer Jones-Prothro and her husband James Prothro are expecting their ninth child. Last week Jennifer asked her husband, who has known the baby's gender for months, to come up with a creative way to let her know the baby's gender.  As James thought about how much Jennifer has been missing her father Charlie, who passed away a year ago, he came up with the idea to edit together voice mails from Charlie and create a recording of his voice telling Jennifer that they were having a girl. The video of Jennifer listening to this special recording has been viewed more than five and a half million times.
There's a new King Apple! For at least five decades, the Red Delicious was the most popular apple in the US, dominating grocery selection. But no longer: This year, US growers are projected to produce 51.7 million boxes of Red Delicious apples and 52.4 million boxes of Gala apples, thus giving Galas the top spot for the first time. (A box weighs 42 pounds.) Gala production will be up 5.8% from last year while Red Delicious production will be down 11%, according to estimates from the US Apple Association.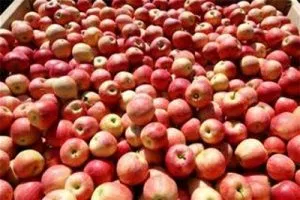 Source: usapple.org