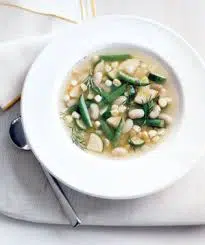 Here is a wonderful soup to make and use up the end of season veggies…enjoy!
Ingredients
4 cups low-sodium chicken broth
1 15.5-ounce can cannellini beans, drained and rinsed
1 large zucchini, cut into bite-size pieces
1 large yellow squash, cut into bite-size pieces
1/2 pound green beans, cut into bite-size pieces
2 cups corn kernels (cut from 2 ears, or frozen)
1 medium onion, finely chopped
kosher salt and black pepper
1/4 cup fresh dill springs

How to Make It

Step 1

In a large saucepan over medium-high heat, bring the broth to a boil.

Step 2

Add the cannellini beans, zucchini, yellow squash, green beans, corn, onion, ½ teaspoon salt, and ¼ teaspoon pepper.

Step 3

Simmer until the vegetables are tender, 8 to 10 minutes. Stir in the dill.