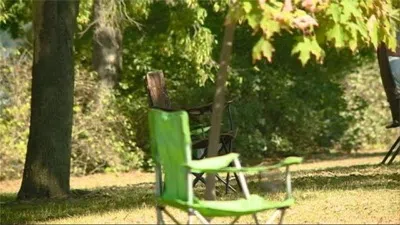 So you've come up with the ultimate plan for saving a spot for Saturday's Maple Leaf Parade. You're gonna get out there really early, camp out if you have to, no one is going to beat you to the best spot, right? Well, put the brakes on, because La Crosse police have a little reminder of the city ordinance prior to Oktoberfest parades. The public right of way policy for the Oktoberfest parade reads:
"No person shall place obstructions such as couches, chairs, or other items on the public boulevards, public sidewalks or public right-of-way sooner than midnight prior to the parade. Persons violating this policy may be subject to a $124.00 forfeiture pursuant to City Ordinance 40-6 and loss of property plus cost of removal."
In addition, La Crosse City Ordinance 40-6 Obstructing and Encroachment: "No person shall encroach or in any way obstruct any street, alley, sidewalk, public grounds or land dedicated to public grounds or land dedicated to public use."
Darn, there goes you idea of camping out starting tonight. But you'll be out there at midnight tomorrow night!
Source: news8000.com