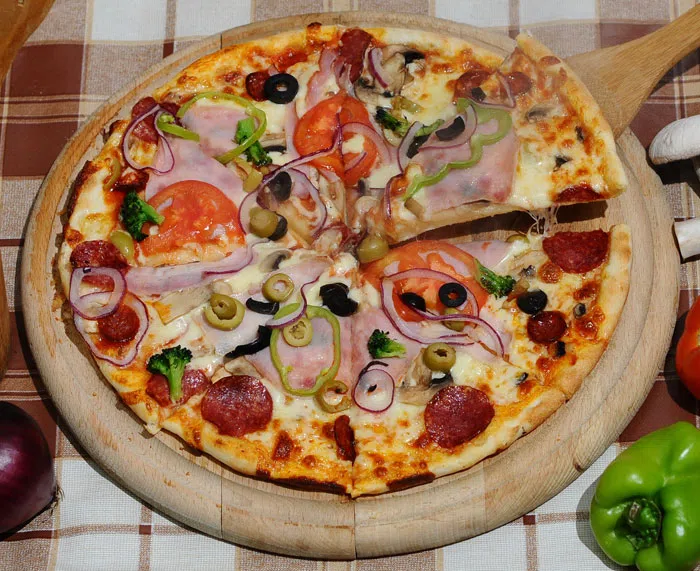 It beat out steak, 16%, tacos 11 %, pasta 11%, and even the American hamburger 13%.
PIZZA is America's favorite food! Come on, are you really that surprised?
I like all of the above, but along with it's variety of great flavors, the versatility of pizza (great to eat at any time of the day) set's it apart from the others. I like all of the above as well, but pizza takes the cake…or…the pie? -GM
*********
If you could only eat one food for the rest of your life, which would it be?
A recent survey conducted by The Harris Poll posed this thought-provoking question to Americans across the country. More than 2,000 U.S. adults responded, and the results were enlightening.
In an increasingly polarized country, where ideological differences result in shouting matches and pointed fingers, it's heartening to know that Americans can agree on what really matters: pizza.
Yes, the single food that most Americans would want to eat for the rest of their lives is pizza, which 21 percent of survey participants chose as their answer. It beat out steak (16 percent), tacos (11 percent), pasta (11 percent), and even the undeniably American hamburger (13 percent).
This marks the second year in a row that pizza has received this honor through the California Pizza Kitchen's National Pizza Survey. (It's not biased, we swear.) The results also showed that pizza was the participants' favorite cheat day food, and almost half feel less guilty about eating pizza if it includes vegetables, either as a topping or a veggie-based crust. Nearly all millennials surveyed said they would give up something for an entire year in order to have free pizza anytime; 43 percent would give up rosé wine, and 36 percent would give up avocados.
Source: Reader's Digest