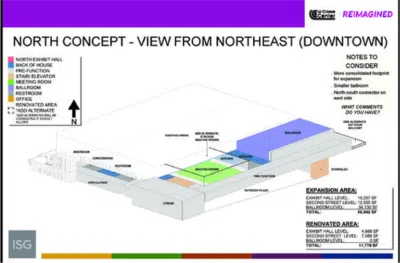 Well, it took a while, but there are three new options being considered for the La Crosse center renovation and expansion project. The new plans were debuted during a public meeting Wednesday. All three options call for tearing down most of the North Hall to create new space and essentially start over.
>> The North Option would also have an atrium component, a 9,520 square foot ballroom and some outdoor space.
>> The West Option would also include an outdoor space but would create a 12,282 square foot ballroom headed towards Riverside Park. This expansion would not go into the park.
>> There's also the South Concept, which calls for buying the Radison's ballroom, which neighbors the La Crosse Center.
The La Crosse Center board hopes to settle on one option to present to the La Crosse Common Council in December. That could mean the council votes on the concept in January.
Get the full story here from News8000: